Featured Football Athlete: Chase Carbaugh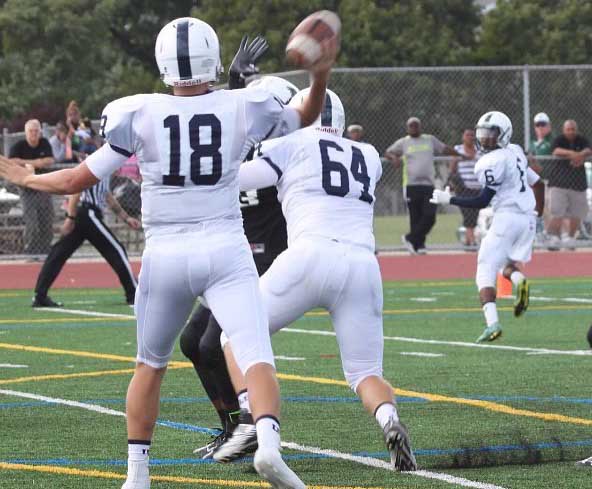 Football has been a tradition at this school, leading to 5 state championships over the course of 21 years that Urbana has been open. Urbana is lucky this year to have senior Chase Carbaugh as our starting quarterback. Carbaugh is now a veteran on the varsity team, alternating quarterback last year with teammate Tyler Woodward.
Carbaugh started playing football in fourth grade because all his friends played and it seemed like a fun activity to involve himself in. His favorite football team is the Indianapolis Colts and he looks up to Peyton Manning. Carbaugh is also involved with the Urbana Unified Bocce team.
During the first game of the season, Carbaugh broke his finger, leaving him unable to play for three to four weeks, however he believes he will be back in no time. Carbaugh said it is frustrating for him to suffer from an injury this early in the season, but he said simply, "Everything happens for a reason." Carbaugh said he lives by this saying every day, especially now with an injury.
Carbaugh is not only a hardworking and dedicated athlete on the field but he also possesses these same qualities in the classroom. Coach Mencarini, third year Varsity Football Coach said, "Chase has a tremendous GPA and SAT score. He will have the opportunity to reward himself at a great school academically. Football is just an added bonus." Carbaugh hopes to attend University of Maryland or University of Maryland Baltimore County in the fall of 2017.
Football season is a huge commitment practicing six days a week for three hours every day. Carbaugh said he has no problem balancing football, social, and school. Mencarini applauded Carbaugh on his outstanding improvement physically and mentally in the three years he has known him. Mencarini said, "I have seen him grow not only with football knowledge, but just physically I have seen him put in a lot of effort into mastering his craft as a quarterback".
Carbaugh hopes his team can make it to playoffs and the ultimate goal would be making it to the state championship game. This season Carbaugh is proud to be a captain, and said it was a big goal for him and it is a huge accomplishment to have it happen. Carbaugh is aiming to one day have his jersey number retired. He said it would be his biggest achievement in football.
Mencarini hopes the team can learn how to finish games this year. Last year in close games some went their way some did not. Mencarini said this year he has lots of deserving athletes that do great things in school and on the field. With five state championships on the wall and under our belt we are looking forward to an eventful season with football.