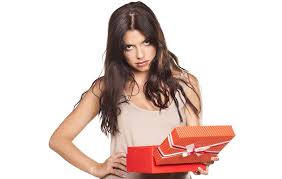 We've all been there, underneath a Christmas tree, unboxing a pack of underwear three sizes too small from Aunt Patty who you haven't seen in three years. There's no right reaction, either the awkward smile or hug. If you think that feeling is only worthy of your mortal enemies, you're in luck. Here are 30 of the worst gifts known to mankind.
Socks: Everyone has gotten them, nobody has said a sincere thank you.
Underwear: See above, these are always gifted with embarrassing patterns.
Deodorant:  Passive aggressive, or you overstocked? 
Puzzles: Does anybody actually do these?
Coal: This would actually be a good prank.
Perfume: Guaranteed to smell worse than whoever it's gifted too.
Lotion: It's never a new bottle.
Ketchup: Trash condiment, and present.
Ugly Sweaters: We're at #9 and I haven't mentioned these yet?
Cards Without Money: Don't look disappointed, don't look disappointed, don't look disappointed.
Green Beans: Don't ask. (An anonymous UHS student actually got a can of green beans for Christmas)
Gift Cards: Fine in concept, but what am I gonna get from Bass Fish Shop?
Calendars: I have a phone that shows me the date.
Coupons: These are expired, Grandma.
City Shirts: I've never been to Cincinnati, why do I need a shirt that says Cincinnati?
Jerseys: I'm not even a hockey fan
Dog Food: I have a cat
Anything Regifted: We´ve all done it, doesn´t make it right
Cockroach stuffed animal: A website I found listed this as a horrible gift, weird right?
Toothbrush: I actually needed a new one but I feel hurt
Ashtray: Why
Dog: I'm allergic
Cat: Also allergic
Fish: I'm not allergic but its already dead
Another fish: Also I don't have a fishtank
A third fish: I think I found Nemo
Book: Not a bad present, but this is a kids book
Jar of Relish: I interviewed someone who got this for a holiday. I was confused too.
Action Figure: Literally why
Fanny Pack: I ran out of ideas
While the Holiday season may be winding down and ending, now is a better time than ever to laugh about funny gifts we've gotten in the past and plan for next year's enemies.