St. Patrick's Day Blood Drive- it's Green, not just Red!
On March 17th, club day- it was already hectic. However, the Red Cross was planning more than just a club day; in fact they canceled the club for a certain event- the Blood Drive!
Red Cross's Saint Patrick's day blood drive had a green color code to keep spirits up, while snacks and drinks were provided by the American Red Cross staff to keep their donor's blood sugar levels up.
Seeing my officers help throughout the day since the morning was very motivating to see. Even when I was feeling drained because of the influx of people coming in, I had much support in continuing operations.
We had a total of 25 donors which has the possibility of saving 75 lives, as one donation can save 3 people. Although the minimum requirement of donors (40) was not met again this year, Urbana's Red Cross club was able to provide life saving blood.
"I felt good about the blood drive, I worked with [Ms.] Warehime, wrote passes, and entered blood donors into the Red Cross system. Some difficulties we had were donors not being able to donate at the last second, due to health or anything else, but that wasn't anyone's fault. I think that that issue doesn't really have a solution, but also, to streamline the process, next year we could make the process to become a blood donor available to the donor initially, not after filling out required forms" Secretary Jessica Li (12) says. Jessica's favorite part about the drive was being able to donate. Although she was a bit intimidated at first, she felt calmer as the experience was going on "maybe because I was losing blood". Although Jessica was wondering many times during the donation "when is this going to end?" She says she enjoyed knowing she helped others.
Treasurer, Asel Tabaldieva (11), commented on how she really liked the blood drive and thought it was a prime example of the Red Cross working towards helping people. Mainly manning the registration table and helping distribute snacks to the donors, her President acknowledges the hard work she contributed in organizing the incoming students, and helping her with odd tasks.
"The only difficulty that I faced during the blood drive was the delay that took place and resulted in a lot of people not being able to donate and a long wait time. A message was sent out to the Red Cross group, and that was able to stop a lot of the donors from coming in unnecessarily." Hopefully next year, we can get more volunteers from the Red Cross's blood collection team! All in all, Asel says she "really enjoyed connecting with the donors and volunteers who [she] saw throughout the blood drive."
Donor Johnny Clark (11) says that "The blood drive experience was very long but rewarding". Although there were bumps on the road to donation, he says that the experience would not stop him from donating again because the blood drive is a great way to give back to the community. He was even able to film a mini vlog of his first donation!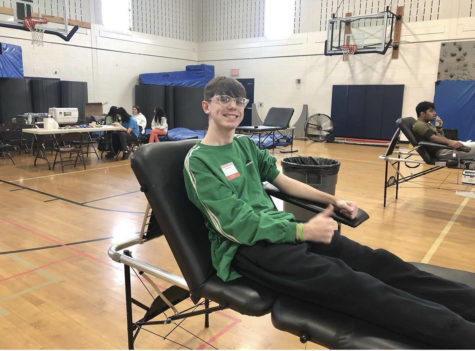 YAB representative Roshna Vijayan (11) thinks that the blood drive went well! "We were not able to get as many donations as we had interested donors which was due to back up and also the fact it was club day… A lot of people didn't know it was happening until [the] week of, so they couldn't plan around donating blood and then weren't able to. All in all it was good but definitely room for improvement!"
Hopefully we can get more medical assistants for next year's blood drive, but all-in-all it was a great way to give back to the community. As a senior, and Red Cross President, I am very proud of all my officers who powered through this drive and to our members who were willing to give blood!