Students Participate in Spirit Day by Wearing their College Gear: Photo of the Day 2/15/19
Today many Urbana High Students participated in Spirit Day by wearing their college gear. This week was February spirit week and today's spirit day theme was representing your college by wearing college gear. Student's showed their spirit by wearing college gear from West Virginia University, University of Maryland, Brown University, and many more. This spirit day comes about a week after the 2019 signing day. On February 6, six student-athletes from Urbana High School signed National Letters of Intent to announce they will continue their athletics in college.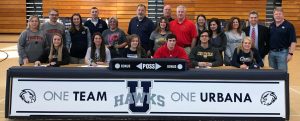 The six student-athletes who signed are Isabelle Eskay who will be playing soccer for George Washington University, Kevin Makosky who will be wrestling at University of Maryland, Shaye Morrell who will playing lacrosse at Monmouth University, Lily Stephens who will be playing lacrosse at Frostburg University, Yahshua Garcia who will be swimming at UMBC, and Mary Miller who will be running for Cedarville University. This spirit day is relevant to many seniors who have recently applied and even been accepted to colleges. Even students who aren't seniors can participate in this spirit day wearing college gear representing where they hope to attend. Today's spirit day is a way for the school and the students to celebrate their achievements and their future after high school.