What will Maryland's reopening look like?: Photo of the Day 05/14/20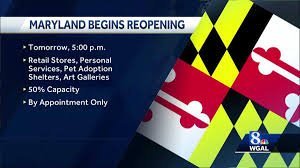 Maryland's stay-at-home order officially ends this Friday, May 15.
According to CNN, starting Friday evening, "retail stores may open with 50% capacity, manufacturing operations may resume, barber shops and hair salons may open with 50% capacity by appointment only and churches can begin to hold religious services again either outside or indoors with 50% capacity."
Governor Larry Hogan stressed that proper precautions, such as wearing face masks and practicing social distancing should still be taken. 
In the past week, Hogan announced that, "elective medical procedures could resume at the discretion of local hospitals and healthcare providers," and that, "outdoor activities, such as walking, hiking, running, or biking, golf, tennis, boating, fishing, and camping," could resume. Additionally, previously closed state parks and state beaches are allowed to reopen for exercise.
Maryland Public Schools are also closed to in-person learning for the rest of the 2019-2020 academic school year. 
Sources:
https://www.washingtonpost.com/local/dc-extends-shutdown-maryland-to-reopen/2020/05/13/370c6fb6-951f-11ea-82b4-c8db161ff6e5_story.html
https://www.cnn.com/interactive/2020/us/states-reopen-coronavirus-trnd/