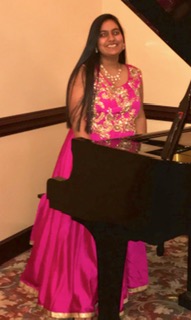 Esha Patel is a senior at Urbana High School. She has been walking these halls for four  years now and has had the opportunity to take many different classes. Such as AP computer science principles, AP computer science A, AP statics, and AP environmental. Among all of these her favorites are her mathematics classes, specifically AP statistics. She may be a quiet student in the halls she can speak 5 languages totally. She fluent in Gujrati, English, Spanish, Hindi, and Rudu. She is also very knowledgeable about the layout of continents and excels in her other classes as well.
When she is not in a urbana classroom, she is practicing the violin as she improves her skills and in the end bettering Urbana High schools Orchestra. She and her friends have played in the UHS production of "How to succeed in business without even trying". They performed at every performance from the pit located from within the stages' floor. She is also a UHS ambassador. Her duties as one include may things such as showing the incoming freshman around and welcoming them to the new school. When she leaves Urbana at the end of the day she goes to tennis practice. She has been a committed player for seven years now.
Some of her greatest achievements are all of her volunteer work and her placement in the National Honor societies. She works with younger kids and coaches them in the sport she loves. She looks forward to watching them move up in school while also keeping up with the sport. She plans on continuing her tennis career past high school. 
As her final months of UHS start up, she remember all her favorite things about UHS. Her favorite thing about the Orchestra is how close they are. They feel like a close family as she has gotten to know everyone. Something she would leave for the underclassmen would be to know that Freshman and Sophomore year go by so fast and enjoy your underclassmen live. Grades are not everything, have a good time. After high school, she plans to move on to college and study cyber security. Her time at UHS has been good and she moves fast into her final year with us and she plans to make it a memorable one.
Esha Patel, Reporter