Movie theaters are reopening
What will be premiering on the big screen?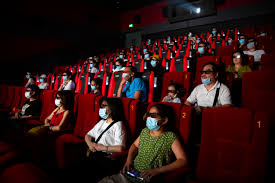 During the pandemic millions of movie theaters closed due to the high risks of the corona virus which left people wondering when theaters would open back up. Many movie productions such as Black Widow and Wonder Woman 1984 have delayed and moved their release date because of the virus. But movie theaters are starting to open up now and that leaves us with many questions like, will it be half capacity? Will they be selling snacks? Will you have to wear your mask the whole time? And what will you see on the big screen?
AMC announced that on August 20th they will open up more than 100 movie theaters. And continue through the months, they say "about two-thirds of [their] theaters across the country should be open no later than September 3." The closest AMC theater that you can go to is at the Rio in Gaithersburg.
Movies that are now playing at the nearest movie theater near you, Regal Westview & IMAX that is located here in Frederick, are The New Mutants which is an action, horror genre. The Broken Hearts Gallery, the genre is comedy. There are many other movies playing this next couple weeks such as Black Panther and many others. Be sure to check Regals website and see what else is playing. I myself, may go see The New Mutants.
Also some movies that will be coming soon to the Regal Cinema are 2 Hearts, Black Widow, Wonder Woman 1984, and Soul. Along with many other upcoming movies. Bella Costanzo, a sophomore at Urbana High School, says that "I'm excited to go to the movie theatres, but as long as we are being safe. If we aren't being safe then I won't go."
This leads up to the new safety measures at movie theaters including AMC. AMC says "all staff and customers must wear masks, following a controversial remark from AMC CEO Adam Aron in June in which he suggested mask-wearing among customers would be encouraged but not mandatory." There will be extra cleaning and disinfecting of high traffic areas. And hand sanitizer and disinfectant wipes will be available.
As for the seating and capacity AMC will "significantly limit seating capacity in our auditoriums." The company says that they will use "high-tech HEPA vacuums" and "upgraded MERV 13 air filters wherever possible ." For the safety of the people who come in.
Since most movie release dates got delayed some movie theaters will be playing loved movies like Back to the Future, Black Panther, Star Wars: Episode V – The Empire Strikes Back and many more. AMC also announced that these would be 5 dollars a ticket to see.
Regal Westview & IMAX is open as well and is showing movies. The safety measures are the same and you must take risks. Ticket options are for you to print it out at home. Have your ticket sent straight to your mobile phone. Or you can pick up your tickets at a self-service kiosk.
AMC and other industries have said "they will work at a reduced capacity to facilitate social distancing, along with increased theater cleaning and required mask wearing."
While the pandemic was happening drive-in movie theaters were also making a comeback. Drive-in movie theaters were the most popular 1950s. And now everyone from all ages during this pandemic has gone to a drive-in movie theater and watched Classic Movies. In a news report it was mentioned that Walmart announced it would convert 160 of its parking lots into drive in movie theaters.
This is one of the ways people still did go out and watch movies. But now since movie theaters are opening up people will start to go back into the cinemas and watch the movies that have been long awaited.