Would you willingly own a bloodthirsty dragon? This book may change your mind.
The book that made an entire group of readers wish they could own their own life-threatening fantasy monster🔥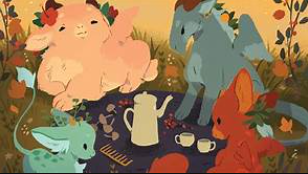 The Tea Dragon society from the outside is a simple, adorable book; A charming story about a girl finding herself with the help of some surprisingly adorable dragons by her side. However, just one look online will show you the enormous fanbase and craze over a small-production fantasy novel that enchanted a generation with the thought of raising a mythical beast of their own.
This book focuses on Greta, a young blacksmith passionate about her future in the arts. Throughout her journey, she meets a group called "The Tea Dragon Society". The two are some of the last remaining owners of a species called Tea Dragons. These adorable little creatures who hardly live up to their fearsome origins come in all sorts of varieties, each based off a type of tea. Chamomile dragons are lazy and sleepy, Green Tea dragons sophisticated and calm, etc. In the story, these dragons are going extinct because there aren't enough people who are dedicated to raising them with the amount of work they take. Greta and her new friend, Minette, seek to change their pattern by learning to care for dragons of their own. There are even other books in the series with big, bad dragons who people hold almost as much love for just due to the first installment! It's plot and storytelling earned it two Einster Awards, and a review from esteemed book reviewing source KIRKUS as "Undeniably whimsical and extremely cute".
Online, this book sparkled a predictable craze for the species known as "Tea Dragons". With detailed descriptions of each type of dragon, adorable designs and perfect worldbuilding, these became some of the most adorable and sought after fairytale creatures in it's genre. It's following on social media platforms has created plenty of fanart and some incredible new fan-made breeds of tea dragons. The fixation on them means you could probably find a teadragon for any tea you could think of! Plus, as it started off as a webcomic, this may be one of the first books with a loyal following before the book was even published.
The Author, Kay O'Neil, has writing that's been quoted and admired by longtime fans of this book and it's sequels. Some famous ones from this author include "Memories don't just live inside you, Minette. They live in all the people and objects you share your life with." and "When someone is grieving, the best thing you can do is let them heal on their own, and show them that you'll be there for them," both of which became wildly popular on Pinterest. Even if you don't appreciate the art, the writing is enchanting. And if you don't appreciate the writing, flip through the pages and look at some of the artwork! Kids I've babysat for have taken my copy of this just to look at some of the illustrations.
In summary, there are three installments of this book for a reason, and the fanbase continues to thrive in its midst. Between fanart, quotes, and plenty of other shows of support, this book has become something many around the world have grown to love. It will remain at the top of my favorites list for as long as the series continues, and once you read it, I'm sure you wouldn't mind a dragon as an exotic pet.