Life as an Assitant Principal: A Personal Glimpse at Mr. Chavez's Life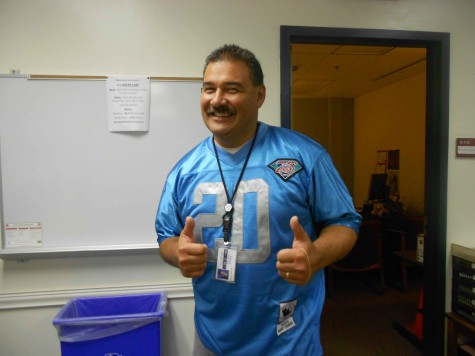 Assistant principal Michael Chavez didn't think he would end up as a school administrator.  "If you would have asked me when I was in high school if I thought that I was going to be an assistant principle at Urbana High School my answer would have been no," Chavez said. He actually majored in economics while in college, but after being inside a cubicle for all hours of the day and counting numbers he decided it wasn't for him. .
He then went back to school and majored in education. Chavez always had an interest in athletics, so once he left school he continued on to work at Linganore as a coach. From Linganore High School he went to Thomas Johnson High School where he was a student support teacher, and he then later moved up into administration.  After the number of students at Thomas Johnson decreased, he was asked to come to Urbana.
When Chavez has down time some of the things that he likes to do is play or watch sports or go to the beach, and among all things his favorite hobby is traveling and spending time with his family. He loves to see new places with his number one priorities, his family and friends.
One of his favorite parts of the job is knowing he is not only making a difference in students' lives but also to the lives of the faculty and community.
Some challenges of his job are keeping up with today's always evolving technology, recognizing the different ways that society has been changing, and dealing with a big school. There are a lot of bodies that are moving around the school all the time doing all different things, and sometimes it can be hard to keep watch over all of them.
With the way technology and society are evolving it can be hard to keep students paying attention and entertained. "Students can be sitting right next to each other and just be texting," Chavez said. He wants to help students become more interactive with each other and less interactive with their phones. He plans to do this by having more interactive face to face activities such as participating in school clubs, sports, and extracurricular activities. Hopefully this will impact students to have more face to face contact, which are skills that they will need after graduating.
Chavez may not have always known that he would end up as an administrator but he sure loves what he does.  By impacting the Urbana community in a positive way he is making every day school life easier, having support systems in place for students, along with clubs and other activities to participate in so the school day is more rewarding.