Urbana Volunteers on MLK Day of Service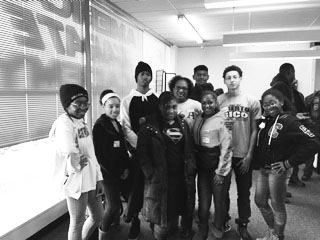 The annual Martin Luther King Jr. (MLK) Day of Service is a holiday to serve the community – an opportunity for everyone to give back to and help the society.
Special Education teacher, Ida Davis in conjunction with Alpha Kappa Alpha Sorority and a mentoring group, Ascend, volunteered to make hats for children with cancer. Ascend is another sorority and club that is open to all high school students from grades 9-12, both males and females. This club meets monthly after school and is often involved in service projects. Ascend has debates once in a while on the topics of their interests, and they also get to meet guest speakers. Anyone interested in joining this organization can contact Davis for more information.
Junior Bianca Bonny, a UHS student who volunteered on MLK Day, "wanted to do something for the kids." They made hats for cancer patients who received chemotherapy to make them feel special and look good. Volunteers such as Bonny and her group gathered at the American Karate Academy on January 18, 2016, and sewed 50 hats. An organization from Virginia then helped to distribute these finished products to cancer kids in the hospital.  This service gave Bonny great satisfaction and she looks forward to serving the community again in the future.
Davis said, "This project is an opportunity to make someone [feel] special and to have someone to care for them. [Our] goal was to make 100 hats for kids."
This is Davis' second year to be involved in this rewarding service.
Other than making hats, there was a karate station where the owner of Karate Academy and his students held exhibitions of and demonstrated different "stretches to help ease pains." He wanted to illustrate the best and correct way to alleviate pain effectively.
All volunteers from this service wanted to make a difference in the community.