The Thirst Project Club: Giving Water, Giving Life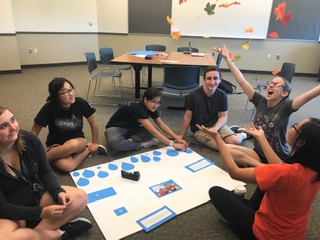 When living in a community like Urbana, it's very easy to take for granted the amenities that are given to us, including the bare necessities such as water. As it stands, 663 million people live without access to clean water throughout the world. This leads to consequences including high mortality rates, an outstanding rise in water-borne diseases, and a lack of education in women and children due to the demanding role of fetching contaminated water. With such a crisis, the youth of today have begun to rise up and combat this issue through the Thirst Project, the world's leading youth water activism organization, which raises money to build wells in communities of 300 to 500 people to provide fresh water for life that meets the A100 Standards of the American Water Works Association. Numerous chapters of the organization are spread throughout the country — including one at Urbana High School.
"I first discovered this organization through Instagram during the summer of 2016," remarks Leah Esemuede, an IB senior at Urbana and the club's president. "An actor that I follow, Cameron Boyce, was constantly posting about the adverse effects of the global water crisis and how Thirst Project was working with students my age to combat this issue. So I did some research and learned not only about the global water crisis' negative effects, but the way it impacted a community's way of life, including education. After doing my research, I couldn't just sit by and watch, so I talked to my friend, Gabi. We contacted Evan Wesley from the Thirst Project's HQ and created the UHS Thirst Project!"
The Thirst Project Club, originating in Spring 2018, raised over $650 dollars since its arrival to the UHS club system. The club will continue into this academic school year. Despite being a small club, its members are working hard to reach the primary goal. "Hopefully, by the end of this year, we would have raised more than $1000. However," Esemuede adds, "I really want to focus on raising awareness in our community. By doing this, we can raise more money and ultimately save lives.
To coincide with the idea of raising awareness, the Thirst Project Club has a few events planned for the first semester. "On October 13th, we will be at the Villages of Urbana Fall Festival giving out stickers and buttons, accepting donations, and most importantly, raising awareness," Esemuede stated. The event took place from 1-4 at the Anthony M. Natelli Community Center. The Thirst Project Club was able to raise awareness to numerous families within the community as a result. In November, the club hopes to start a challenge known as the "GWC (Global Water Crisis) Jerry Can Challenge to raise awareness around our community and maybe even the nation," Esemuede adds.
The Thirst Project Club holds meetings during 4th block in Mr. Auderset's room during first semester for those interested in taking up the cause and helping to spread awareness. As the club's founder said it best: "I mean give water, give life right?"