9 Holiday activities that are amazing for you and your wallet!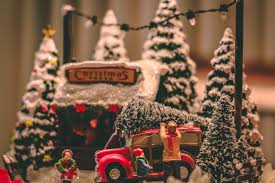 Well, the holidays are upon us and so is a global pandemic.  Some of our beloved activities like going to see Christmas plays, ballets, or house tours obviously won't be happening.  All of those fun activities also come at a cost, this can sometimes add stress to the holiday season.  It's not that these things are inherently bad, it's just that these things should be taking away the stress, not adding to it.  So, here's a list of 9 super low-budget/free and "corna-safe" activities that you can do with your family or close friends that will keep stress to a minimum and will help you get into the holiday spirit!
Do a gingerbread competition with your family!
There is nothing better than making something that you can eat.  This holiday season, crank some music and put on your aprons because gingerbread house-making is about to get real! Just add a little friendly competition and you'll be making decorative and edible houses that will be a part of a great family bonding experience.  No matter how messy or how elegant, gingerbread houses are super fun to make and will be easy on your wallet.  It is also an amazing at-home activity, especially during this difficult time.  You can bake your own pieces or buy a small kit that is generally inexpensive.  Although, the pieces from a kit feel more like cardboard than anything else!
Go on a walk downtown to see all the lights!
Walking ain't only great for your body, but it's also great for your soul.  Downtown Frederick has the prettiest lights and it is practically free to just go and waltz around the city at night with your family or close friends.  Sometimes, it's the little things that make the best memories and cool down your wallet after all the online holiday shopping.   So please, if you're looking to get out of the house, consider frolicking downtown… try it, it's fun I promise.
Decorate your Christmas tree and listen to some Christmas tunes!
My family has a tradition where we cut down a tree the day after Thanksgiving and we decorate it that night.  It's one of my favorite memories because it's a time where we laugh, talk, and simultaneously watch home videos from previous holidays.  It's another great family bonding experience that's relatively cheap if not free (depending on if you actually cut one down, then, in that case, it can get expensive… not going to lie).  However, this year was different for us.  We just put up our fake one this year to minimize COVID exposure and to save money.  This year, decorating was fun because it was an activity that we could all have fun with and we didn't have to travel anywhere or spend our money on anything.
Bake holiday-themed cookies!
Baking a fresh batch of cookies to enjoy or give away to family and friends, always puts me in the holiday spirit.  Baking will probably be one of the best things to do this year because it is another at-home activity and generally inexpensive.  It's also an opportunity to get creative and try new things! Give some away to extended family members or friends (safely).  It is a great opportunity to give and also have fun when you have nothing to do.
Watch your favorite holiday movies!
I don't care how many times you have watched Elf or How the Grinch Stole Christmas, it is a tradition to watch each classic at least once over the holidays.  My personal favorite movie is A Charlie Brown Christmas.  However, if you do not have any of these films on DVD you can watch them through Netflix or if they come on t.v.  If you're in the low-budget state of mind watch a Hallmark movie!  These cheerful, cheesy, and a tad cringe-worthy films are adorable and perfect for getting into the holiday spirit.  Hallmark has a "Countdown to Christmas" movie marathon in case you are interested!  My personal favorites are The Christmas Cottage and A Nine Lives Christmas… those are the least cringe-worthy ones.
Build a snowman! (if we get any snow)
Snow might be a hit or miss this year considering that we are currently in an El Niña. If you don't know what that is, go ahead and look it up.   However, there might be a chance that we do get some snow in December and if we do, snowmen are guaranteed free to make.   Snowball fights are a great alternative if we don't get enough coverage for a snowman.  However, in the case that we don't get any snow, just pretend… Let's keep it positive this year!
DIY your own garland with popcorn and cranberries (instead of buying garland)
Garland can be expensive.  Lucky for you, cranberries and popcorn actually look really nice on Christmas trees.  Yes, they can be a little time consuming to make, but if you just take a string and a needle and sit with your family while you do this, it can actually be a really fun experience.  In fact, when you're done using it for your tree, you can hang it up on a tree outside of your house for the birds and squirrels to munch on.
DIY your own ornaments 
DIYs are super fun and get your creative juices flowing.  Making your own ornaments can be a new tradition and you'll look back at them years down the line and remember that time and how you felt.  They are almost like snapshots of each moment and when you go to decorate your tree it will be a reminder of that year.  You can pass them down to your kids and your grandchildren.
Have a cozy firepit!
Take advantage of the cold weather while you can.  Fire pits are a universal favorite and they are safe in regards to COVID-19.  You can set up chairs 6 feet apart from one another and create little s'mores kits in individual bags to give to your guests.  Since most of us will lack some company indoor this year due to the restrictions, fire pits are outdoor (I sure hope so haha) and are cozy and festive.  
I hope you enjoyed these low-budget holiday ideas.  If you are looking to get creative this year or start your own traditions, these are great ways to do that.  Happy Holidays and stay safe!