Alanna Tate: One of the best basketball players in Maryland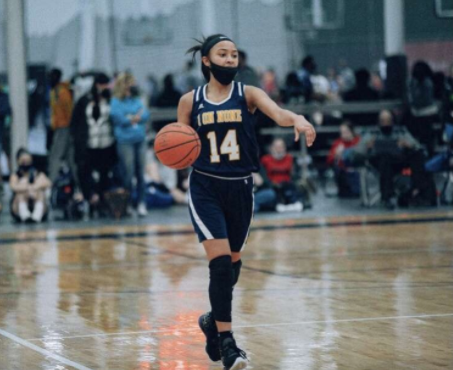 What does the future look like for one of the top players in Maryland? Well, Alanna Tate is a junior at Urbana High School, and she plays varsity basketball here at Urbana. According to Prep Girls Hoops, she is also the second best player in Maryland for the class of 2023. Alanna has been playing basketball for about 12 years, but she started taking basketball more seriously for about 8 years. 
Alanna first started playing basketball at 5 years old, and she also played soccer but she decided to quit once she had to choose between the two sports. "Basketball has always been a thing in my family. My dad played basketball in highschool and college, we have our favorite basketball teams, whether it be NBA, WNBA, women's or men's in college, it's always kind of just been there,"  said Alanna
As mentioned in the article earlier, Alanna quit soccer in order to keep playing basketball. She says, "Yes I loved soccer, scoring goals and such, but basketball just was more fast paced and something was always going, which I really liked because it keeps me on my toes and something is always happening,"
Next I talked to Joseph Blaser, the varsity girls basketball head coach, and also a teacher at Urbana. He said, "Alanna is  a very hard worker, and loves the game, so it is a joy to coach her."
As someone as dedicated to their sport as Alanna is, you have to sacrifice a lot for that sport. "I've had to sacrifice friendships, hobbies, free time, and sacrifice my energy and sleep for this sport. But once you love something that much you don't have to regret making those sacrifices," said Alanna. 
Alanna also loves competition. Her favorite part about basketball is competing, she loves a good competition, and that is when she plays her best
Female athletes make up 43% of high school athletes according to the National Federation of State High School Associations. Of course there are struggles of being a female athlete, but that was already talked about in my past article
In the future Alanna hopes that during highschool we can compete, and win in regionals, and also compete in and win states. She also hopes that she gets to go to college with a Division 1 scholarship, and continue to play basketball, if not in the WNBA, than overseas. 
Career wise, Alanna isn't sure what she wants to do yet. "However I'm very interested  in law, criminal justice, and I also love to sing. I also wouldn't mind becoming a coach or a college scout or recruiter," she said. 
"So whether it be to become a lawyer or pursue music, I also am taking into consideration starting my own business, like my own training facility or having my own basketball gym."
"With somebody as driven as she is, goal oriented, who already has her thoughts, goals, and dreams for the future academically and athletically, and as hard as she works the possibilities are endless. She's got a great future on and off the court ahead of her," said Coach Blaser
Alanna has received major interest from American University, University of Albany, Campbell University, Dartmouth, Navy, Shepherd University, and Wagner College. 
Sources: 
2018-19 HIGH SCHOOL ATHLETICS PARTICIPATION SURVEY Conducted by the NATIONAL FEDERATION of STATE HIGH SCHOOL ASSOCIATIONS Based on Competition at the High School Level in the 2018-19 School Year SPORT BOYS GIRLS COMBINED (Number of States Reporting for Boys/Girls) Schools Participants Schools Participants Participants. The National Federation of State High School Associations, 2019.
"Maryland HS Girls Basketball Rankings & Recruiting." Prep Girls Hoops, www.prepgirlshoops.com/maryland/. Accessed 29 Sept. 2021.