3 Halloween party themes to rock your friends' world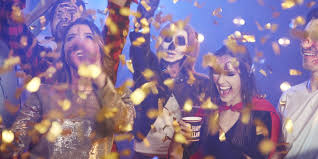 It's that time of year again. Time to get a costume, call all your friends, and get your house decorated to the max. To get ready for this killer party, you'll need to be prepared. And to be prepared you need a theme.
There are many themes for parties and those are okay and all, but nothing beats a themed Halloween party. The theme sets the tone for the whole experience and trust me- you want people to have a to-die-for experience.
Here are three themes for your Halloween party that are sure to make your friends come begging for more.
Haunted House:
Everyone loves a good scare on Halloween night; what better to freak out your friends than making your house a haunted one. Turning your front yard into a haunted graveyard by buying headstones, a fence, some plasting bones, and maybe even a little fog is a great way for your guests to enter your house of horror. Inside, friends can find a charcuterie board of guts coming out of a half-skeleton, witch's brew that will make them foam at the mouth and link intestines sure to make even Dr. Frankenstein's mouth water for sausage. The backyard will come to life with a maze in the backyard hidden with booby traps even the Goonies couldn't get out of. This theme is classic and underrated and is welcome to any and all costumes of freaks in the night. An Urbana alumni, 19, said, "Last year I went to a haunted house party and the girl went all out with the decorations, but my personal favorite was the spaghetti and eyeballs. That was awesome."
Carnival:
The carnival started out as a way for families to go to lighten the load of life, having a fun day with the kids, looking at the crazy clowns, eating some nice candy apples and having a grand ol' time- that is, until the murderer came to town. This theme will blow your guests' minds with the gory after-effects of the carnival-gone-wrong aesthetic. Using clown decorations, broken down rides, and the occasional iconic red and white striped tent, you can perfectly capture the heart of this theme and freak your friends. Lily Poska, grade 10, said she, "[…] would freak out if (she) went to a party like that. (She) loves being scared by clowns."
Horror Movie Night:
If you want a more laid back kind of night, still fresh with frights, invite a few victims over for a nice, relaxed movie night. Costumes are welcome, snakes – sorry – snacks, will be provided. Classics like The Shining and new releases like IT will be shown, and fun will be had by all. "The majority of horror movies released within the years 1990 to 2020 have a below-average movie ranking, while movies from 1940 to 1989 had an above-average movie ranking," said Jack Doyle, former data and analytics intern for an article by Viget. So the great debate will go on, oldies or newbies? Hash it out with your friends at this fun-filled night of screams and laughs. 
Would you survive the night at one of these parties? Who knows. Will you have fun either way? Absolutely.
Sources
Doyle, Jack. "Behind the Jumpscare: The Spooky Statistics in Horror Movie
Rankings." Viget. Viget, www.viget.com/articles/
behind-the-jumpscare-the-spooky-statistics-in-horror-movie-rankings/.
Accessed 21 Oct. 2021.
Eberhart, Jennifer. "22 Halloween Party Ideas." Care.com, 15 Sept. 2021,
www.care.com/c/22-halloween-party-themes. Accessed 21 Oct. 2021.