New Years Resolution Guide To Stay Motivated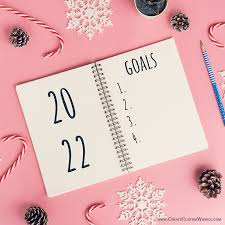 When coming to a realization  towards New Year's resolutions, you try to persuade yourself with a list of things you want to change in your life for the new year. Society seems to want to try to use New Year's resolutions as a coping mechanism to use as a strategy to create a better mindset for their upcoming year of 2022. When making your New Year's resolution you need a guide to be able to stick and pursue the resolution for the new year. 
Here's to the beginning of a new year! "New year… new me," some may say. If you haven't already declared your new year resolutions, here are some of our ideas!
Guide Pursuing Your New Year's Resolution
When setting a New Year's Resolution should be intended with a positive attitude to help influence the encouragement to accomplish the resolution. A positive attitude helps persuade you to want to work hard and stay determined with a positive mindset that you can set your resolution on track to be able to accomplish in the New Year. Setting your mindset to a positive attitude encourages the aspect of manifesting the expectation for good things to happen, in this case staying motivated to accomplish your New Year's resolution. A positive attitude sets your viewpoint on your life to reflect on the challenges faced to surpass them to have confidence towards your New Year's resolution. 
To accomplish a New Years resolution motivation and staying motivated is a huge impact to create the affect of being able to want to accomplish and succeed in your resolution. Being able to stay motivated will help a better mindset of not giving up on your resolution. Your New Years resolution should be realistic and relevant to be achievable. Having a realistic New Years resolution to be able to actually accomplish and not just be an idea of something you wish you can accomplish but do not physically put in the effort. New Years resolutions should always be relevant that are true to yourself that affect you personally you want to change for the new year and not a resolution that is a trend reflecting on other people's New Years resolution instead of focusing on your own resolution that is relevant to you personally. Staying determined and motivated to help succeed in your New Years resolution!
Top 15 New Years Resolution Ideas
Eat Healthier (Nutrient Food)

 Stay active daily to help stay healthy and in shape 

Wake up early daily to experience a full day being productive 

Organize daily schedule 

Have a daily routine 

Change and improve your style 

Start a new hobby

Save more money

Keep room clean on a daily ( cleanup after your mess in your room daily) 

Be a better version of yourself 

Forgive and love more often

Learn something new everyday 

Read an inspiring quote daily

Balance spending time with friends and family 

Travel more in 2022
Working out:
Whether you have never worked out or you work out inconsistently, you can make your own personal fitness goals. This can also be setting different personal records if you already go!
Reading:
Have any books you really want to read this year? Make your own checklist and track your reading progress! Some of my current favorites are Turtles All The Way Down by John Green and It Ends With Us by Colleen Hoover. 
Cooking:
Cooking can be so much fun to learn or master! If you have any recipes you want to try out, this is the year to do it! If you're stuck on ideas, check Pinterest, recipe, websites, or good old fashioned recipe books! Some 
Screen Time: 
Opening up screen time to check how long you've actually been on your phone and it turns out to be WAY more than you expected it to be? Don't worry, us too. Make it a goal to lower your screen time and try out new hobbies. 
Clear out your wardrobe: 
If you have any clothing lying unused in the back of your closet, take some time to see what you don't need and donate it! For my 2022 goal, I plan to clear my wardrobe way more often because I feel so much better having a clean organized closet. 
Study and work on grades! 
If you know you have any subjects you want to work on, work on new study methods and notes so you can get into some good habits!
Quotes From UHS Students New Years Resolution:
Emily W. "Is to eat healthier and will accomplish my resolution by watching my diet, eating more fruits and vegetables."
Mackenzie Kilgore (10): "My new year's resolution is to fix my sleep schedule." 
To achieve this goal, Mackenzie says, "I will turn my phone on silent when getting ready for bed so I don't get distracted."