STUDENT SPOTLIGHT: Jadyn Fleming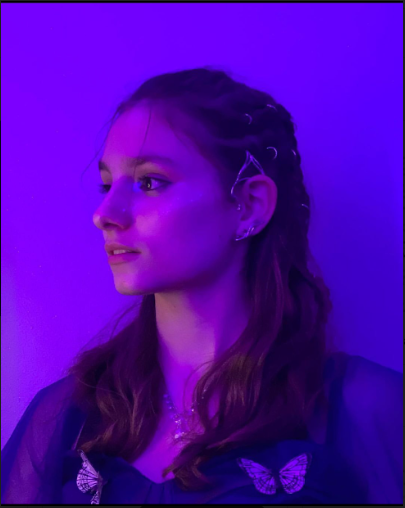 Actress. Writer. Singer. Filmmaker. Friend to many. Those are just a few of the roles Jadyn Fleming (12) carries every day. She is a perfect example of a student who carries way too much creativity in her heart and has no choice but to share it with the world. Jadyn is someone who loves to create and has since a very young age.
"That's why I'm so drawn to entertain other people because it makes them happy. Seeing other people enjoy my work and what I do, it gives me the same joy," she stated.
Her creative work is especially prevalent in her dramatic work. She's been performing in theater since the 6th grade so it's been a long time coming for her on the stage. Jadyn is heavily involved in the UHS Drama Department and serves as Technical Editor for International Thespian Honors Society.
"I think the one thing I'm gonna do in the future is to have patience," she revealed. "Now that I've been on a board for an honors society, it's helped me listen to other people."
Anyone who knows Jadyn knows how much of a champion she is for all the students involved in the department. So if you're someone who feels unseen, chances are Jadyn sees you.
"I think it's because I've been discouraged myself, and I don't want anyone else to feel that way," she explained.
To top it all off, Jadyn also makes moves in the cinematic world. She's done many works in filmmaking and is even credited in direction and acting for numerous short films. She can't help being as amazing as she already is so she has to be a bonafide filmmaker as well.
"The greatest challenge I've had would be learning to use my voice and actually speaking up," she expressed. "In reality, I have to learn on a film set to be louder."
One of the most interesting aspects of Jadyn is that she's a CODA, which abbreviates "child of deaf adult," with her dad being deaf. She's fluent in sign language and believes in the importance of ASL being taught in schools along with other languages like Spanish, French, and Latin.
"It gives access to so many more communities in not just America but in other countries. And If you are able to pick up ASL, You're gonna be able to pick up more languages," she said.
Jadyn Fleming is someone who cares so much for every community she's involved in, and makes an effort every single day. UHS is truly lucky to have someone like her walking around in these halls.