The 2nd Annual Miss Uhuru Pageant took place and showcased some UHS's brightest young women.
Uhuru. A word that beautifully translates to freedom and independence in Swahili, which is a perfect name to describe the celebration of young, black excellence. 
For the second year in a row, BSA sponsored a pageant that featured a few of the black female seniors at the school. The event took place on February 23 at 7 pm, and the proceeds will benefit the Sickle Cell Foundation and the National Black Children Development Institute for Mental Health. The contestants were Joy Abijah, Sena Awudi, Mara Bell, Kristyn Crumb, Gabriella Mbaoua, Nana ama Prempeh, Amari Varfley, and Myris Rochez. Each one of these young women competed for the title of Miss Uhuru.
Prior to that night, they would rehearse a few days a week from 5:30 pm to 7 pm, but they all had a great time because the atmosphere was amazing. 
"I think it was super upbeat. Everyone was laughing and it didn't feel like high stakes to the point where we kind of all forgot that it was kinda supposed to be a competition," Mara Bell (12) explains.
The pageant opened with a beautiful performance by Autumn Rabb (11), singing the national anthem, and all the contestants joined her in singing "Lift Every Voice and Sing." Throughout the event, each contestant was assigned an escort who would "escort" them through each presentation. 
Following the opening performance each contestant would introduce themselves to the judges and prepare for the talent portion of the event. After each talent was shown, the audience was treated with a special performance by the UHS Step Team and following that was intermission. Once intermission ended, the contestants went straight into the questionnaire portion of the event. Each contestant was asked one of three questions and would have to give a timed response. 
"The questions were challenging in a way that for most of us, we weren't as versed in the topics. All in all for me, personally, I only thought to answer the questions to the best of my own ability," Nana ama Prempeh (12) revealed. Despite the stress and intimidation, every contestant answered their question with awareness and class.
Before the winners were announced, a live band performed for everyone while the judges were finalizing their results. The crowd was completely immersed in their sound and brought the event to another level of excitement. While the band continued their set, the contestants each walked out and lined up in front of the audience ready for the results. It was announced that Kristyn Crumb placed 3rd, Nana ama Prempeh came in 2nd place , and Mara Bell was 1st overall.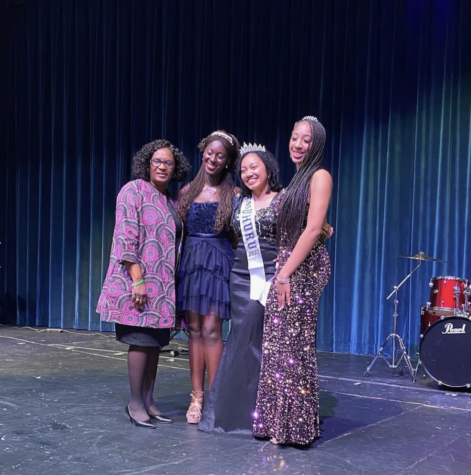 Ms. Davis poses for a picture with the top three winners (from left to right), Nana ama Prempeh, Mara Bell, and Kristyn Crumb.
The entire night was an experience that each contestant felt so much love and support from. 
Nana stated, "Faces I wasn't familiar with in the beginning are now permanently engraved in my mind. And now, I look forward to seeing and even passing the simplest of hi's to everyone one of the girls in the hallway. We bonded over this challenging yet beautiful opportunity and I could joy have asked for a better outcome out of the experience."