Featured Artist: Senior Savana Bridges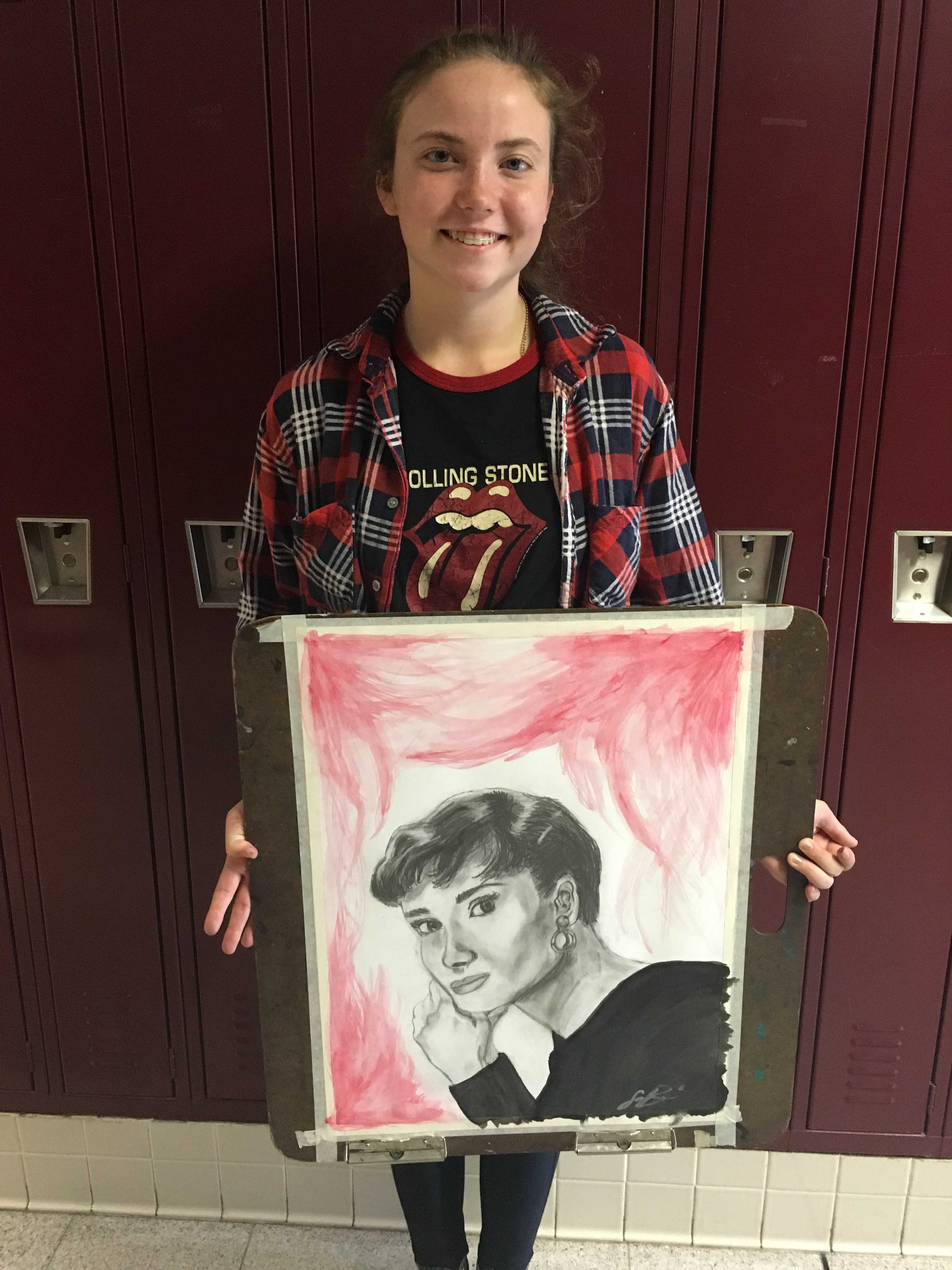 Senior Savana Bridges has taken art classes throughout her four years at Urbana High School.  In ninth grade, she took her first class: Drawing and Painting.  This year, she is taking IB Higher Level Art for the second time.
Bridges has always loved art from a young age.  "My eighth grade art teacher thought I had a talent for it, so it started to interest me more," she said.  Her favorite media to work with are pencil, ink, and watercolor paints.  "Mostly, I do graphite portraits with a watercolor background," said Bridges.  The young artist recently completed a drawing of famous actress Aubrey Hepburn in this style.
Bridges' favorite artist is Edgar Degas, a French painter who is best known for his artwork depicting dancers.  A dancer herself, Bridges said, "I like the way he portrays the human body."
Bridges has created many works of art, but her favorite that she has done so far is a portrait series of a young girl coming of age.  "It had quotes written on it about growing up and how we age in both our minds and our bodies," said Bridges.  As for who the girl in these portraits represented, Bridges said, "She wasn't anyone specific, just someone I had created in my mind."
Though she appreciates many different works of art, Bridges has a particular soft spot in her heart for The Old Guitarist, an oil painting by Pablo Picasso.  "It reminds me of my childhood because we had it hanging in my house for a very long time," Bridges said.  The Old Guitarist was painted during a time in Picasso's life from 1901 to 1904 when he was living in poverty and thus created works of art that represented deep and significant tragedies.  "I like the Blue Period," said Bridges, referring to this time.
After high school, Bridges hopes to continue cultivating her love for art.  "I want to major in art education with a minor in dance, and I want to teach art at a university," she said. The senior would also like to study abroad someday in Italy.  "I want to expand my horizons in art and continue to see new things," said Bridges.  Though her future after high school may still be uncertain, Bridges knows one thing for sure: art will continue to be a part of her life in the years to come.