The Marching Band Plays Their Heart Out in Indianapolis!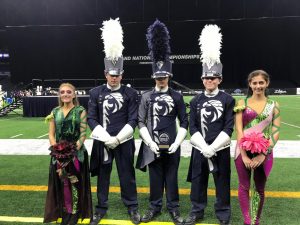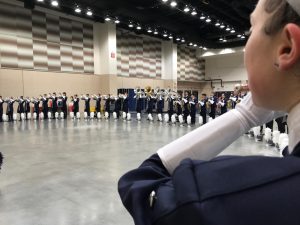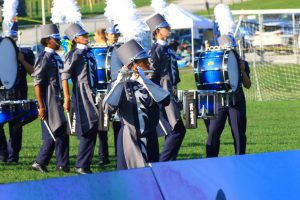 On the brisk afternoon of Nov. 7, coach buses departed from Urbana High. The Urbana High School Mighty Hawks Marching Band had begun their long voyage to Indianapolis, Indiana to perform in the Bands of America Grand National Championships. The band had worked hundreds of long, painstaking hours since May on this year's show, Poison Flower. 
  Grand Nationals has previously been cited as the "Granddaddy" of all band competitions. 108 musical groups competed over the span of several days at the Lucas Oil Stadium in Indianapolis. The Urbana band had the privilege of watching these nationally acclaimed bands perform legendary shows and having a shot at one final hurrah before the 2018 season ended. Afterwards, the band had free time to watch other groups and bonding time at nearby locations.
  For many band members, this was the last time they would compete with the Urbana marching band. When asked what their favorite part of the trip was, several seniors were quick to respond. Victor "Ronnie" Holmquist, a tuba player, enjoyed the feeling of filling up such a large space with noise. Brandon "Greg" Braun, Julia Weddle, and Tyler Kendall agreed that they enjoyed performing for the final time with those they loved, and that the positive energy from the audience made them perform to their best ability. They also concurred that the friends they have made over the past years made the trip even more special.
  On November 11, at long last, the band arrived home after an incredible trip. These talented students closed their season out with a bang and cannot wait to continue their musical journeys through the school year and into next marching season!
Leave a Comment