UHS Drama Presents 'How To Succeed in Business Without Really Trying'
Since January, the cast and crew of How to Succeed in Business Without Really Trying have been rehearsing and preparing for their performances. Finally, on April 4, 5, and 6, audiences were blown away by each of the four performances.
The award winning musical, How to Succeed in Business Without Really Trying, follows protagonist J. Pierrepont Finch (Jack Baumgarten) on his journey up the corporate ladder, from window washer to chairman of the board. Finch finds a book (read by Jarrod Celeste), the namesake of the show, which instructs him as he advances through the World Wide Wicket Company. One day, Finch bumps into the president of the company, J.B. Bigley (Tyler Crean), and tells him that he would like a job. Finch then meets secretary Rosemary Pilkington (Rita Scott) and personal manager Mr. Bratt (Jacob Ridgway) who help him get a job in the mailroom. Bigley's nephew, Bud Frump (Tommy Truitt), is Finch's coworker who tries to rely on his familial connections to become successful. Frump and Finch have a constant sense of competition and rivalry throughout the show. Eventually, Finch, with guidance from "the book", becomes Chairman of the Board of the World Wide Wicket Company, and Frump ends up at the bottom of the ladder, washing windows.
On stage, lead players and ensemble members danced, sang, and acted to create a show that made audiences laugh, dance, and sing along in their seats. Jack Baumgarten had the lead role of J. Pierrepont Finch, an intelligent character who is in the spotlight throughout the show.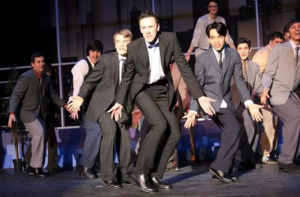 "Because it [was] my first lead role, I [was] pretty nervous," said senior Rita Scott about playing secretary Rosemary Pilkington. Despite some nerves, Scott's beautiful voice, singing, and dancing skills shone.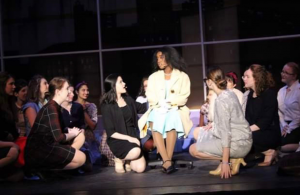 Senior Tommy Truitt described his character, Bud Frump, as an "over the top, yet relatable" character who has a somewhat "annoying personality." In a recurring bit, Frump ran off stage to call his mother when he got upset or jealous of Finch's success. Truitt's voice and impressive footwork were showcased as he performed a tap dance solo on top of a table.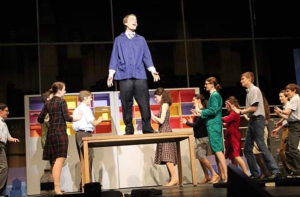 Including Emma Sweeney, Rachel Allen, Mackenzie Ford, Alejandro Munoz, David Moreno, Justin Goggin, and others, the ensemble, gave the performance real-life qualities and excitement with their singing and dancing. Featured members Sophie Beers-Arthur, Lucas Sanchez, Michael Holman, Steven Drabick, and Peter Radzikevich held supporting roles as well as ensemble parts in the show. Radzikevich, for example, was spotlighted in a duet with Jack Baumgarten in his role of mailroom supervisor Mr. Twimble. His vocal abilities were especially impressive.
The actors' performances were only enhanced by the behind the scenes work. The expertise of stage manager Emily Oquist and her team allowed for fast scenery changes and ensuring that everything was in the right place. Lighting and sound, lead by technical director Jacob Schumacher, was well designed and helped audiences to fully experience the performance. It is impossible to not mention the 22-foot tall window frame and mural of the New York City skyline that transported the audience to the United States' biggest city and set the scene in a skyscraper towering over the stunning view.
Under the direction of former UHS history teacher Marlon Moran, the pit orchestra was an essential component of the musical. Without their dedication, hard work, and beautiful performance, the musical would not have been possible.
The UHS Stage performance of How to Succeed in Business Without Really Trying featured a talented cast and crew whose singing, dancing, playing, and design abilities impressed their audiences with each performance. This musical comedy was funny, engaging, and performed phenomenally. Everyone involved was incredibly proud to be a part of the performance, and rightfully so. Tommy Truitt ended his interview by saying, "This cast has worked really well together and we've worked really hard."