STUDENT SPOTLIGHT: Natalia Johnson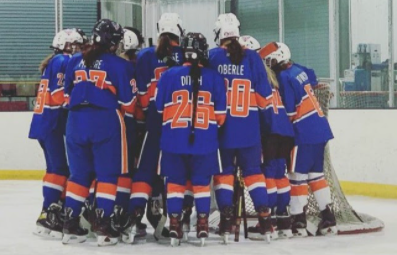 Going from apprentice to teacher is no easy feat, but when it comes to volleyball, sophomore Natalia Johnson did just that. From coaching kids only a year younger than her to dressing up for team spirit days, her life surrounding sports has only gotten more interesting as the years have gone by.
"Well, I started when I was like 5 years old. My mom's a Volleyball coach so she just put me in like a camp," Natalia explained to me when talking about her sports life so far. "I just never stopped." Her mom is in her college's hall of fame for volleyball, so she's been interested since a young age. Her sister, another Urbana student, is also in the sport, marking it as sort of a family tradition. Right now, Natalia is in the high school volleyball league and once it ends, she'll be a member of the club volleyball league. For club, she'll be traveling sometime this year to Florida or Indiana, and then other smaller trips around Maryland and Virginia. They're some of her favorite experiences because she gets to travel and spend time with her fellow teammates. Some things you may have noticed from the volleyball league recently is the day everyone aside from the seniors had to dress up as animal hybrids. It may have been close to Halloween, but I can almost guarantee you that everyone you saw with cat ears and tails were members of our school's volleyball team
Natalia is also a member of a hockey team, and the origin story is much funnier. "Well, my mom signed me up for figure skating lessons. I didn't like figure skating that much, so I kinda quit that. My sister used to figure skate too, so we were always around the rink for her. I would just get bored." After a pamphlet caught her eye, she realized there may be a better way to spend her time than just waiting for her sister at the rink, and the competitive sport turned out to be much more her league. Now a center on her hockey team with years of experience, the reason she felt like starting the sport is way behind her. She's equally willing to take it as a career path as she is with Volleyball. 
Though the high school Volleyball league may be ending soon, you'll see her in future games at the high school and her club team. Further in the future, you can expect to see Natalia going to any college that offers her a scholarship for one of the sports she loves. Keep her name in your mind if you're a fan of Volleyball or Hockey; she's one to watch out for.