UHS Hosts Students From Denmark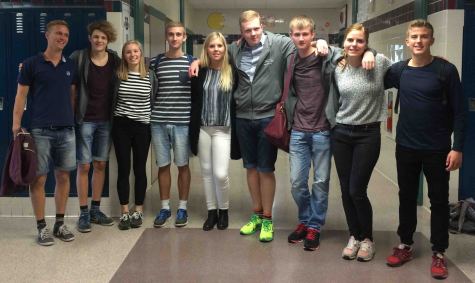 In mid-October fourteen students traveled from Denmark to Washington D.C., where they visited all of the popular tourist sites, and also spent two days at our school. The students, ages 18 to 20, spent four days with the host families from our school, and the rest of their time exploring Washington.
Arriving on Friday, the students spent their first day travelling and meeting their new host families. "My favorite part of the trip has been staying with the host family," said Henriette, 19. International Baccalaureate students were given the option to house the students for their trip. In all there were ten different families that hosted.
The Danish students spent their weekend going to bonfires and football parties with groups of the IB students. On Saturday many of them went to a bonfire at junior, Cara Hotaling's house, and on Sunday they went to junior, Max Eubinags's house to watch the Redskins game.
"On Sunday we were supposed to go to Max's house to watch the Redskins game, but we ended up playing Cards Against Humanity. Surprisingly they were all very good," said junior, Jared Armstrong.
Though the host families did not have a set schedule, or itinerary, many times they found themselves running into each other while out and about. "We saw other families while in Downtown Frederick, and even saw one family while we were in Baltimore for the day," said Hotaling. Often times, families chose to do the same activities, whether it be visiting Downtown Frederick, or going out to eat at the same restaurant.
On Monday and Tuesday the students came to the school to sit in on different classes. Their first day was spent going around to the classes and giving presentations. "They came into my Theory of Knowledge class and gave a presentation. It was interesting to see the different things they talked about," said junior, Will Hewitt.
On Tuesday they were allowed to choose different classes that they wanted to go to. Some of the most popular choices were dance and yearbook. "Some of the classes here are very different from what we have back at home," said Sesben, 18.
During their time at the school, the Danish students were able to socialize and get to know some of our own students. They went to a special dinner with the IB students, and even went to some of our sporting events. "We went to a volleyball game on our last night with the host families. The sport isn't very popular in Denmark so it was interesting to get to watch it," said Ida, 18.
On Wednesday the students spent half of the day at the school before leaving to go to Washington D.C. While in Washington they visited all of the popular monuments, including the Washington Monument, Lincoln Memorial, and World War 2 Memorial. "My favorite place that we visited in D.C. was the Lincoln Memorial, we've always seen pictures of it," said Emil, 18.
Though they were only able to visit Washington D.C. on their trip many of the students said they would like to come back soon to see more of the United States.