CTC Offers a Unique Classroom Experience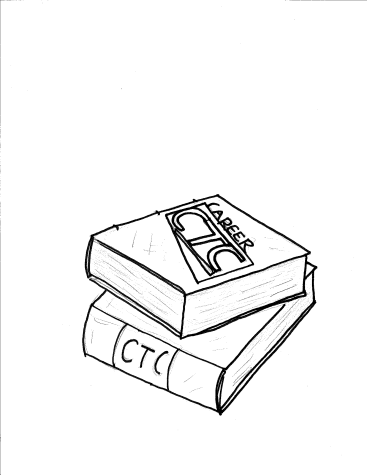 Cartoon by Chris Shea
With over twenty programs to offer, the Frederick County Career and Technology Center prepares students for college and professional fields while also giving them the opportunity to earn college credits and certifications.
The Career and Technology Center, or CTC as it is commonly called, offers twenty-five programs under five main specialty branches: Construction Technology Programs, Technology Programs, Mechanical/Technical Programs, Service Programs, and Student Programs. In addition to the academic programs offered, students enrolled have the opportunity to participate in different student organizations, such as Future Farmers of America, SkillsUSA, and National Technical Honor Society.
Enrollment for students grades nine through twelve is competitive. Along with the importance of academic success, student attendance and a shadowing experience also weighs heavily in the acceptance decision. This process begins in November and runs through February.
"If you know what profession you want to go into and CTC offers a program for it, I definitely recommend shadowing before your sophomore year," said senior, Megan Holley, who is currently enrolled in her second year in the Academy of Health Professions program. Though shadowing is mandatory for the application process, many students recommend completing this before your sophomore year so that completion of a two year program will be done before senior year.
"During my shadowing experience I completed a virtual lab and a blood clot lab. The hands on experience made me want to do the program," said senior Biomedical Science student, Lucy Stephens. "If you aren't sure which specific program you want to do, the open house is really helpful in deciding which program(s) to shadow," said Stephens.
After completion of their chosen program, students can earn college credits and certifications, as well as industry certifications and licenses. "Once I finish my program I will get my CNA(Certified Nursing Assistant)/GNA(Geriatric Nursing Assistant) license, which means I can work in a hospital or nursing home while I'm in college to gain more experience," said Holley.
For students who want to enroll in a program at the Career and Technology Center, but are not sure what exact profession they want to have when they are older, the program does a good job narrowing down the options. It provides students with all of the resources and experience to help decide which direction to go in. "My program helped me decide that I want to be a physician's assistant," said Stephens.
The real life experience prepares students for future jobs and helps ease the transition into college. "I want to be a diesel mechanic and in the program so far we've done mechanics on regular gas cars," said junior Kyle Rosencrantz Ryder. The AutoTech program has built his basic knowledge of mechanics, easing him into a career in diesel mechanics.
"My favorite thing about the program is learning all of the tools we'll need to apply later on in real-life and job situations," said Stephens.