Harper Family Heads to "The Rachael Ray Show"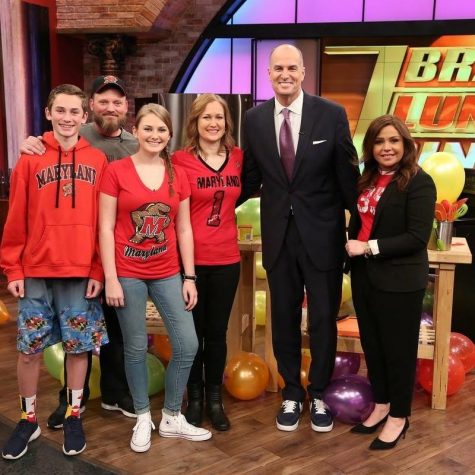 Two Families. Two challenges. One winner. The March Madness cook-off episode of The Rachael Ray show which aired on  March 21st and featured Urbana's very own family of four, the Harpers, was definitely intense and high energy.
It all began when Mrs. Harper messaged The Rachael Ray show, saying that her family and she would like to participate in the March Madness cook-off episode representing the University of Maryland Terrapins. Some time later the Harpers received a call to submit a video of them cooking their favorite game day dish, their signature crab stuffed jalapeño poppers wrapped in bacon.
"My whole family likes to cook," said Urbana senior Ashley Harper. Her dad, she says, is the main chef at home. The recipe they selected for the cook-off is his very own and can not be found anywhere else.
"It was awesome," said Harper. Harper recalls how they were treated like stars upon arrival.
The Harper family entered the cook off donning Terrapins gear, while the opposing family, the Dickersons, came clad in University of North Carolina attire. Each respective family was ready to win, fueled by the prospect of tickets to the NCAA Final Four in Houston, Texas
The first challenge, a thirty minute cook off where each family prepared their best game-day cuisine, posed little threat for the Harpers, even with the few obstacles the Harpers faced. Harper explains that the time constraint was a barrier and the fact that they had to cook on a stove and not on a grill as they usually do.
Nevertheless, the Harpers stunned Jay Bilas, Emmy-nominated ESPN sports analyst, who judged each culinary creation.
"Do you guys have doggie bags? I'd like to take these home. Fabulous. Delicious," said Jay Bilas. He raved about the Harpers poppers saying they incorporated the "creaminess" of the crab and the "smokiness" of the bacon well. However, both families came out of the challenge with a draw.
Then came the second challenge. A bonus round for three extra bonus point where only the parents participated. Each parent(al) pair had to put on a pile of clothes and then take them off and put them inside a washing machine.
Unfortunately, the University of North Carolina family were victorious but the Harper family did not go home empty handed. Both families won a 65-inch LG SUPER UHD 4K TV and gained an unforgettable memory.
"It was an amazing experience," said Harper