UHS Senior Crowned Miss Frederick 2016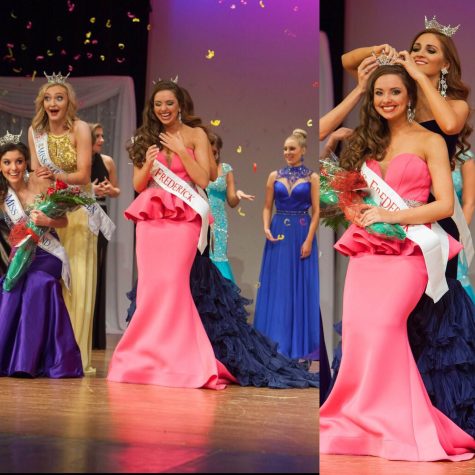 Holding the title of Miss Frederick 2016, a step up from years prior in which she held the Miss Maryland's Outstanding Teen 2014 title, Sarah Robinson's passion for pageants has grown immensely in the last few years. From confidence and community involvement to interview and public speaking skills, Robinson said "The whole experience has been amazing."
Competing through the National America Miss Organization since age 14, Robinson plans to continue on for as long as she can before aging out at age 24.
The four exclusive categories each contestant is judged on in these pageants include: Formal Wear (30%), Personal Introduction (30%), Interview (30%) and Community Involvement (10%). Scoring high in these categories is very important when it comes to placing.
Robinson is a Brand Ambassador for the Déjà Vu Boutique, located in Mt. Airy, which helps a great deal with her attire for the pageants because on average she has six outfit changes throughout the competition. The Miss Frederick Pageant she describes was sponsored by the Thomas Scott & Salon which was "pretty cool," she adds.
"Performing on stage is another reward to the whole process," said Robinson. Her talent is singing, and she enjoys onstage performing, as evidenced by taking on the leading role as Belle in the school musical Beauty and the Beast this year.
Robinson is a huge advocate for community involvement and service outside of the pageant scene. With a platform of "Students Lend a Hand," Robinson has already had a huge impact on the Urbana community. So far, she has raised $5,000 in school supplies to give to homeless children in the area. Her goal is to double that by the time she makes it to Miss America.
Looking toward the future, Robinson will be competing for Miss Maryland in June of this year, which will be held at the Maryland Theatre in Hagerstown, with hopes of continuing on to Miss America in September. Robinson explains that to advance to the Miss Maryland pageant you must win the local competition, Miss Frederick, first. With this scenario at hand, Robinson believes that this is the year she wants to go all the way.