Marcus Allen Begins New Chapter at Urbana
New Hawk Looks Forward to Holding AP Position in the Nest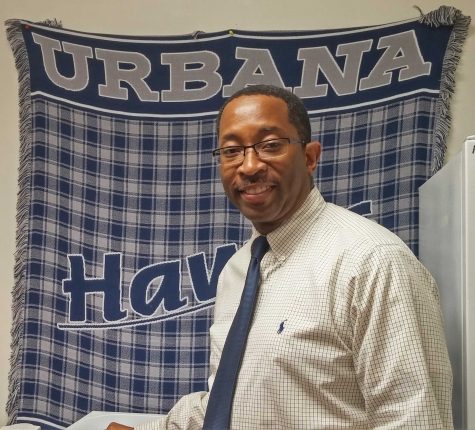 From Chicago, Illinois to Tampa, Florida to Frederick, Maryland, Marcus Allen takes on Urbana High School as a new Assistant Principal of the Administration team.
Inspired by the great administrators he had in his student and teaching career, Allen is impressed by the notion of "serving people as you lead them." This saying is his guiding principle.
He follows his motivation every day, working with students and wanting to do the best he can as an assistant principal. After being an A.P. for seven years at Catoctin and Governor Thomas Johnson High School, Urbana is his newest challenge.
"Catoctin is like half the size of Urbana. Two of Urbana's lunch shifts, is like the size of Catoctin (high school)." Allen said.
Allen said "I am so happy to be at Urbana." His shortened commute is a huge benefit and he jokes that he has gotten "an hour of his life back."
Allen looks forward to all the new experiences presenting themselves at Urbana and intends to use them as an opportunity to "reinvigorate" himself. Allen said, "Getting to know the building, staff, and students is the hardest challenge with the transfer," but he sees it as another adjustment. Allen said, "I know this is a great school."
Being an assistant principal can be a very demanding job. One might not realize how many hours the Urbana High School Administration team puts in each day. Allen said he serves "around the clock…it is very important to know how to manage your time."
The switch to Urbana helps this cheer dad and church congregant find the time to be with his family and have more at- home-time and still be able to support the Hawks. A former track athlete, student government member, and school mascot (Commando), Allen does not fall short when it comes to school pride. Allen said, "I donned this heavy helmet, put on the gear, and I would be out there…leading the troops."
Regardless of his time card, Allen knows what he signed up for. Allen said, "Part of an administrator's job is to supervise evening events…when I was at Catoctin I never went home after work, I would stay at Catoctin all evening." With his transition to Urbana, he now has the time to do it all. Allen said, "I can go home, if I want to eat dinner at home I can…the possibilities are endless." All in all, Allen is very excited to be at Urbana and to be its new assistant principal. Allen said, "I'm happy."
There may be a principal position in his future but Allen said, "Right now, I enjoy being an A.P."