21st Annual Talent Show
With the plethora of talent hiding within our Urbana walls, this year talent show provided the perfect outlet for gifted students to showcase themselves.
For the past 19 years, music teacher Monica McCormick has been running the talent show alongside the Urbana choral boosters.
"The students at Urbana are so talented and have such diverse talents," said McCormick.  The selection process was definitely a struggle for her and the committee of parents that helped narrow down the roughly forty different acts who auditioned to just twenty in only two days.
After the laborious auditions, came the casting. This meant that each act was placed into one of six categories: best instrumental, best vocals, best combo, best band, best one woman band, and most unique.
The numerous days and hours spent auditioning, casting, and rehearsing for the talent show certainly paid off opening night, Thursday November 18th. Infinite laughter provided by the MC's Sydney Austin, Maria Puglisi and Griffin Snyder, entertainment from each act, as well as exhibition performances by the UHS step team, and the rendition of "What is this feeling?" by Maria Puglisi and Sydney Austin made for a non-stop production.
Even with the show flowing smoothly, Junior and contestant Alison Greenlees had to admit the whole process did set her a bit on edge.
"It was kind of nerve wracking," said Greenlees. Greenlees and her partner Nadia Plaschke competed in the best combo category.   Both girls were on vocals while Plaschke strummed the ukulele.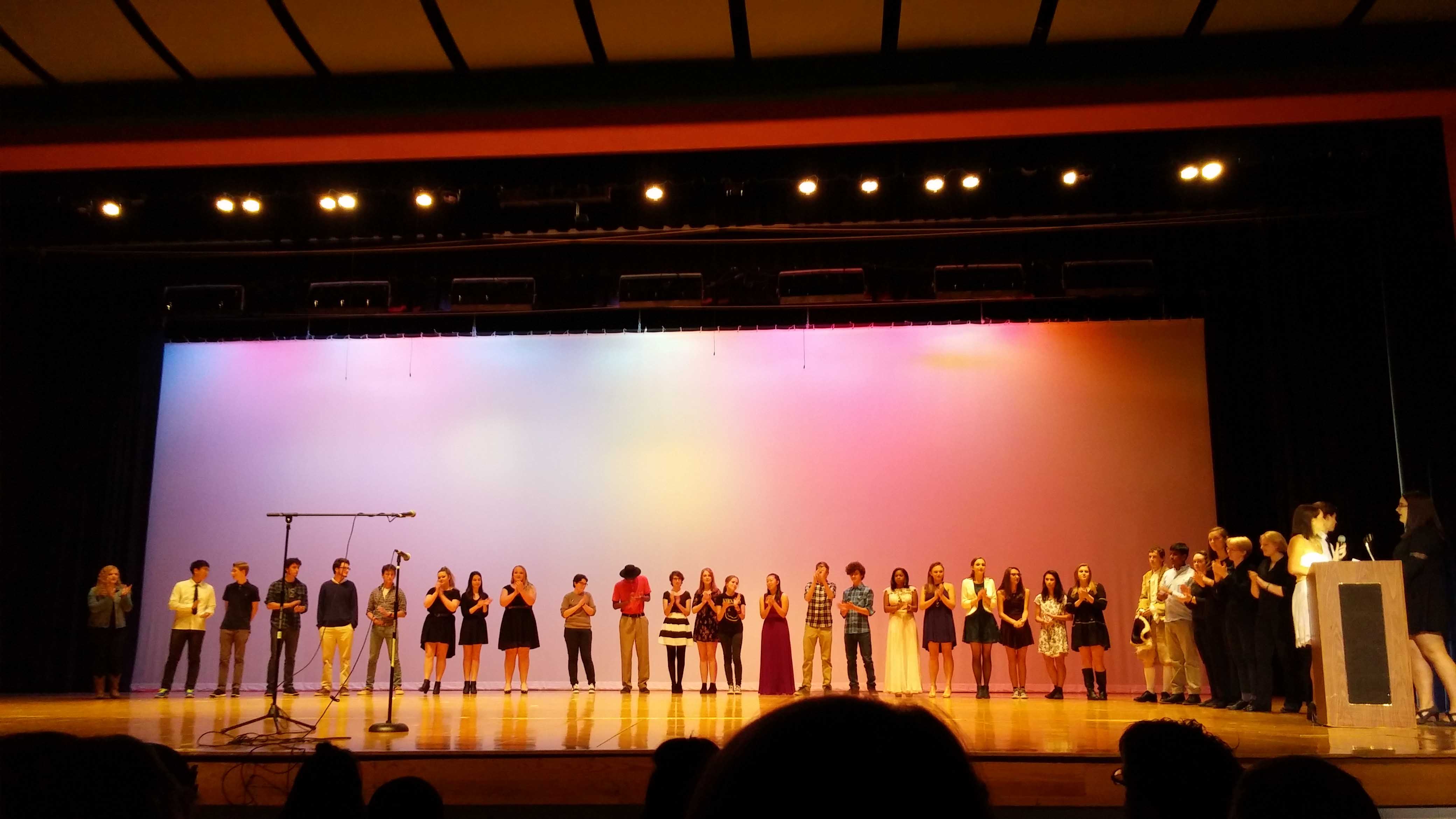 Then came the moment of truth.
Each contestant was brought on stage, lining up one next to the other, nerves racing, heartbeats sputtering, hands shaking.
The best band category was won by Those Meddling Kids, made up of Adam Abrams, Sawyer Estok, and Johnny Monk.
Most unique was  won by Cat Poston for her poetry piece, Shine.
Depending on each category, the acts were scored by judges on four different qualities. Five points were awarded for each quality. Within each category the act with the most points would win and receive a prize of a hundred dollars cash.
Best combo was won by Allison Greenless and Nadia Plaschke for their rendition of "Hands Down" by the Greeting Committee. Best one woman band was secured by Julia Chilnick as she sang "Someone Like You" by Adele while playing the piano.
Best instrumental was won by Jessica Wu for her rendering of "Sonata" Op.78 First Movement by Beethoven and finally  best vocals was won by Emma Shirey for her performance of "Hallelujah" by Leonard Cohen.
"The judges always tell me what a challenging job it is to pick a winner in each category because everyone's great," said McCormick. There is something to be said about the level of talent unfurled at this years talent show.  Not just on the stage but backstage as well, in the seats of the audience and in the preparation. A dedication was revealed that is rarely seen anywhere else.   .