Urbana Soccer Sweeps States
Photo by Stacy Ukishima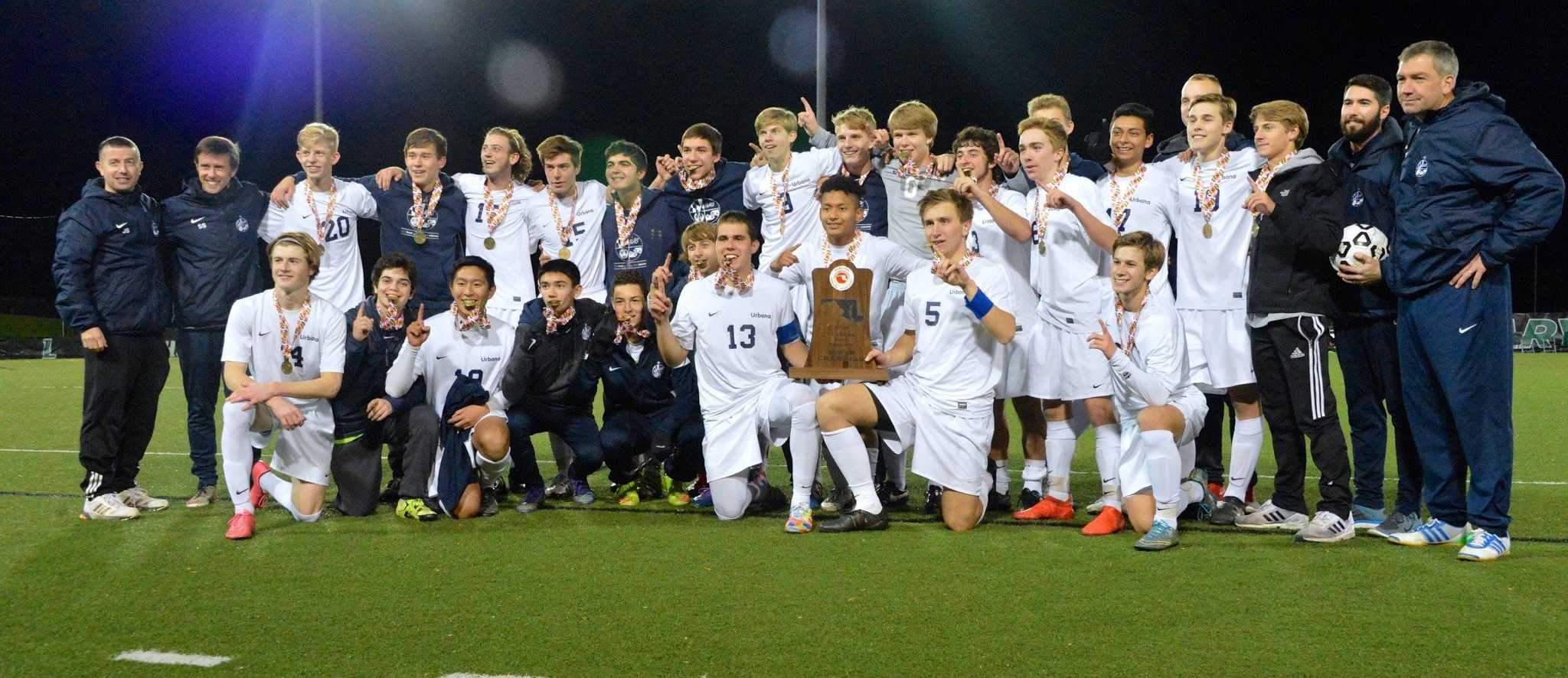 Photo by Stacy Ukishima
Both Urbana's Boys and Girls Soccer teams brought home two State Championships on November 17, 2016, an incredible feat that very few schools have accomplished. Our community was fortunate to have both of these teams represent us at the 3A State Championship.  After starting their season in August, not including the extra summer workouts before that, the amount of effort these two teams have put toward the ultimate goal has paid off.
With a record of 19-1, the Boys Soccer team was fired up after beating Mount Hebron 1-0 in the state finals.  With the game tied at 0-0, Urbana took a shot on goal during the second half, Mount Hebron quickly blocked it, but the blocked kick flew directly into their own goal, sending Urbana up 1-0. It was now a matter of keeping the ball out of their own net for the remainder of the game, which Urbana successfully did, earning us the state title.
Being the seniors' last chance, they, along with all the other players on the team have been drilling hard in practice to earn the Championship.  Using every player in some way, whether on the practice field or at the Loyola Athletic Complex field, everyone was involved in helping the team achieve victory, giving the seniors an incredible final season to remember throughout their lives.
Senior attacking midfielder Kyle McQuillen was very anxious to play in the State Championship. Being a contributing member on varsity in years past he said, "We have had good enough teams to make it to states in past years, but this year we have had some obstacles in our way.  So being able to make it to states our senior year and take home the title is a great feeling."
Having expected to face challenges and adversity during their championship game, McQuillen said, "It came down to whoever wanted to win more, whichever team had more grit and was more conditioned would be the team to come out on top."
That team was Urbana. Being on the offense the majority of the game, they never let up or wasted time, proving to the audience that they had what it takes to be true state champions.
Not only excited for themselves, the Boys Soccer team shares their glory with the Girls team, who won their Championship just hours after the Boys.
McQuillen went on to comment on how both teams made it to states and won this year. He said, "It is really awesome because we both have been playing back to back games, and there was a lot of support coming from both teams."
Sharing the excitement is senior midfielder Casey Ballow who said, "Going to states and winning is an awesome feeling.  It's even better to be able to share this experience with the boys team."
The Girls Soccer team, standing at a final record of 18-1-3, had faced a few losses earlier on in the season, but it all came down to the final few games.  Any team that is in the state championship match, win or lose, has the heart and will to fight until the end against any other team, and every player has the tenacity and strength to persevere through adversity. Urbana High School's Girls Soccer team was the school that came out on top, winning 1-0 against Northern Calvert on a goal scored early in the first half by junior attacking midfielder Caitlin Shepherd, keeping the lead for the Hawks throughout the rest of the game.
Preparation is an element that any team wanting to succeed must utilize. The more time and effort put towards a goal, the more likely a team is to win.  Ballow said, "Our team was as prepared as it could get.  After [viewing] our scouting report of our opponent, we had gone over every small detail at practice to ensure we got a result."
Finishing off an outstanding season of Soccer for Urbana High School, these two teams will go down in history, being remembered for fighting side by side with each other and eventually coming out on top, bringing two state championships home to Urbana.