Winter Wonderland: My Experience
Maria Reyes, Assistant Managing Editor, Opinions Editor, Web Editor
December 2, 2017
Today, Dec. 2, 2017, I was able to witness another one of Urbana's very special traditions. Today Urbana's band held Winter Wonderland in the cafeteria and gymnasium from 9 AM to 3 PM. To give you a basic idea its a holiday shop for elementary schoolers but in my story, you'll learn that it's also so much more:
First off, my sister and I were dropped off at the gymnasium entrance. When we got there the line was out of the door! We were a bit discouraged seeing as it was sort of cold, but we waited. As we approached the door we could see twinkling lights and balloons that looked like snow. Two elves were outside to hold the door. Then another elf handed us an envelope where we could place the child shopper's name and budget. My sister, Raquel, was given a pin to keep track of her. Then we went into another line to wait for an elf who would take us to the holiday shop. We waited but the Christmas music, friendly staff, and lovely decorations made the waiting time go by quickly. After reaching the front of the life another elf, Jingles, came to greet us. I had the option of dropping her off, but I decided to accompany my sister. Other parents left their children with their elf and they went shopping in the gymnasium which was where local vendors were set up. As we walked into the cafeteria I felt like I walked into Christmas. There was tinsel all over the place along with tables covered in red and green.
The gifts were all laid out for the children to choose from. To my surprise, the gifts were all below ten dollars and not bad presents at all. My sister picked up a toolbag and wrench keychain for my dad. There was plenty of girly things for mom and fun toys for her brother. Then I left her with Jingles to get my present and I went out of the holiday shop into the other half of the cafeteria. There I found food, and not just a plain bag of chips but Chic-fil-a and pizza! So after she was done, Jingles handed her over and wished us a Merry Christmas. After that, we went for some pizza and Chic-fil-a. So much shopping can make one hungry, so it was perfect. Next, we stopped by the cookie decorating table. It was fun decorating a gingerbread man and it really got us into the Christmas spirit.
Next to that table, there was face painting which Raquel simply couldn't miss. After that, we went to the vendors. There was so much stuff that I could buy. Not to mention, free hot chocolate! However, the center of the gymnasium was Santa. The line was full of children eagerly waiting to sit on Santa's lap. For only six dollars they got to keep a picture and decorate it in a frame. Our stomachs were full, our shopping was done, and we felt full of Christmas cheer. We left happy and satisfied, with a lot of gifts and new memories!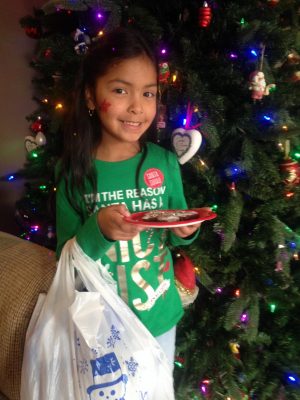 If you have younger siblings or children then mark Winter Wonderland on your calendar for next year! It's a wonderful experience that supports Urbana's Champion Band. Everything is organized, fun, and festive. As I look back, the line was worth the wait because my sister and I had a lot of fun!