Food Fanatics: Nando's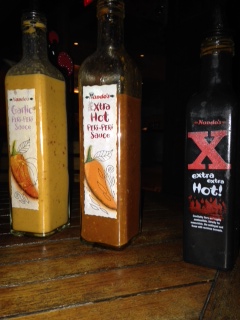 Located in Gaithersburg, MD, Nando's chicken stands out above the rest. Their famous Peri-Peri chicken marinates for a minimum of 24 hours before being flame grilled to perfection. The price range is very reasonable for the amount and quality of food you get. A family of three can easily be fed for roughly $30.00.
Walking through the door, you immediately notice the Peruvian-American fusion style of the restaurant: modern but with obvious Peruvian undertones. The staff is always smiling and very friendly as they seat you. You order yourself at the register and the food is brought to your table within minutes, even at their busiest hours.
As an appetizer, we ordered their homemade hummus which comes with warm pita bread and a Peri-Peri oil drizzle. The hummus was smooth and tasteful along with the warm bread. As an entrée, we had ordered a whole chicken, which was cut into fourths and served with two sides (we chose mashed potatoes and garlic bread).
The Peri-Peri sauce alone stands out on a plate with its vibrant orange color, which has a sweet flavor, and can reach all the way to a dark red which is its hottest flavor at around 175,000 on the Scoville scale. (The Scoville Scale ranks flavors from sweet being in the hundreds to spicy acids at the top with numbers reaching 16,000,000,000)  Within the sauce is a combination of the brightly colored piri-piri peppers chopped up into the creamy texture of the sauce.
You also have a choice of multiple flavors of the Peri-Peri sauce, ranked by spice level and ranging from sweet garlic to scorching hot. The texture and taste of the sauces make them fit seamlessly with almost anything on the menu. The mashed potatoes were made with red-skin potatoes and perfectly blended into a rich and creamy side that complemented both the chicken and garlic bread. The bread is beautifully toasted and seasoned perfectly to bring out the full flavor of both the Peri-Peri chicken and mashed potatos.
We strongly suggest making a visit soon. We give it 4 stars out of 5.
Leave a Comment