Hot or Not: Grammy Edition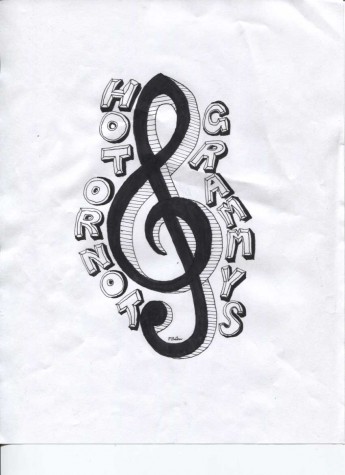 Maddi Rihn
It is award season in Hollywood and they have got everyone wondering about who is going home with those shiny trophies, in this case, the Grammy's. Let's take a look at the 2016 winners.
RECORD OF THE YEAR: Uptown Funk- by: Mark Ronson featuring Bruno Mars
  Landin says HOT: Mark Ronson and Bruno Mars broke records with Uptown Funk when it was released so it is almost deserving of getting the award. With catchy lyrics, a rhythmic beat, and Bruno Mars as the main singer, Uptown Funk was viewed as Mark Ronson's one hit wonder song although it still was an amazing song that many jam sessions in car rides came out of. The song hit hearts of many and was well deserving of winning the Grammy over songs like, Can't Feel My Face, Thinking Out Loud, and Blank Space.
  Kiara says HOT LIKE HABANERO: There is no doubt that this song rocked the charts, and continued to do so some time after its initial release. It even upped the ante in the Super Bowl 50. Its soul and dare I say, funk, brings a lively and exciting energy to the air waves. No matter how many times I heard it playing, and I believe I can speak for most people when I say this, I couldn't help but start dancing.
ALBUM OF THE YEAR: 1989- by: Taylor Swift
  Landin says HOT: Taylor Swift had contenders such as To Pimp a Butterfly by Kendrick Lamar and Beauty Behind the Madness by The Weeknd but managed to come out on top. Personally I think it was the best of the 5. With popular songs such as Shake it Off, Bad Blood, and Blank Space it definitely was noted to be one of the albums able to contest with Kendrick Lamar for this title. So it is definitely a hot pick and deserving of the win it got.
  Kiara says SURPISINGLY SPICY: Taylor Swift has never been a favorite of mine, I will admit it. I also have to admit that most of her new music, especially selections from her winning album, has shown different sides of the country/pop star that have intrigued listeners, including yours truly. The album contains several hit songs including, Shake it Off and Blank Space, and also added in, Out of the Woods, whose music video premiered on New Year's Eve. If you ask me, this award was given to the right person. It was an album that definitely represented Swift's evolution as an artist and viewers agreed with it. Nothing could top her acceptance speech either.
SONG OF THE YEAR: Thinking Out Loud- by: Ed Sheeran
  Landin says DEFINITELY NOT: Ed Sheeran managed to steal away Song of the Year 2016 from big hit songs See You Again by Wiz Khalifa Ft. Charlie Puth, Alright by Kendrick Lamar, and Blank Space by Taylor Swift with Thinking out Loud. The one good thing about this song is the fact it managed to scrape away from the night with 2 Grammy wins. Even with how repetitive and annoying it got it would have been much better to have See You Again win the Song of the Year definitely not Thinking out Loud.
  Kiara says SADLY NOT: I have always been somewhat a fan of Ed Sheeran, no one can deny the talent he has. Did I think he deserved to win this award? No, not really. The song is touching, very well written, overall a good song that shows off all the talented things about Sheeran. What I think it lacked was the potential to outrank all of the other hits artists had to offer. Maybe it is just my own human habit of reacting to a more theatrical work like Adele's, Hello, but I do not believe that Sheeran should have received this award, despite his natural talent.
NEW ARTIST: Meghan Trainor
Landin says SOMEWHAT HOT: The New Artist pick was all about that bass with Meghan Trainor coming with an almost obvious win. With all of the opposing artists being somewhat irrelevant and unheard of it was almost guaranteed that Meghan Trainor would get a Grammy this year with five songs making it on the Billboard Hot 100 ever since her rise to fame. While not that good of an artist, Meghan Trainor was the most relevant of the irrelevancy, semi-deserving of this pointless Grammy.
Kiara says HOT: Meghan Trainor is most definitely an artist, without a doubt. I love her voice and the tone of it, and even though it can come off as a bit risqué, her lyrics are both humorous and meaningful. I think the right person received this award. She naturally sticks out with her music as it is really unique and refreshing, just the criteria for an award such as this one. She cannot compare to the other artists nominated such as: James Bay, Sam Hunt, Courtney Barnett and Tori Kelly, with her original flare, groove and confidence that the music industry has been looking for.