Turf Field for Urbana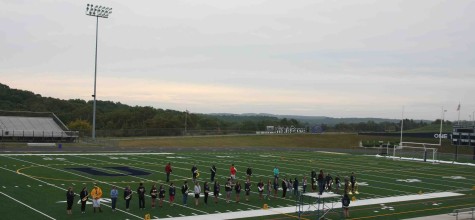 For a long time every athlete has been waiting to have one thing, a nice sports field. This past year Urbana High School has finally raised enough money to acquire their own turf field. Urbana has historically been known for having one of the worst fields in Frederick County, and nobody, not even students from Urbana, wanted to play on it.
Varsity football coach David Mencarini said, "It is great for all of the student athletes and something the whole community can benefit from".
This new field will also help prevent injuries. The old grass field was never in good condition. It always had little potholes and ruts that any athlete could easily catch his/her ankle in and severely injure themselves. Justin Cooper a former lacrosse player at Urbana High School said that he is glad that they got the turf because he was always afraid of hurting his ankles when he would run on the old grass field.
The new field is a welcome addition for all athletes. Ray Gray, the starting running back for the Urbana Hawks football team said, "we definitely have the best stadium in Maryland now, and more teams will admire coming to play us because of our field'.
Urbana girls soccer coach Chuck Nichols said that he is excited to play at home this year because he wants all of the other schools to come and play against them on our turf field.
For most sports the turf will give UHS athletes an advantage when we play other teams that don't have turf fields, because we will be more accustomed to the field than the other teams who don't have artificial turf. Michael Maier the starting center back for the Urbana Hawks boys' soccer team thinks that UHS will have big advantages against those teams and we will be beating them all.
Leave a Comment