Featured Athlete: Regan Lohr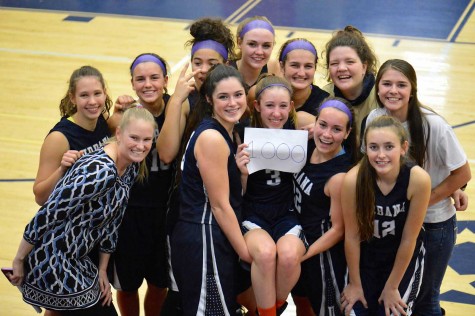 The 2014 girls' varsity basketball team had their best season since 2001 by nearly matching that season, making it to states, and losing by just a few points.
Senior Regan Lohr is one of Urbana's current top players. Last year she earned a spot on the all-county team and scored 28 points in one game. She also had nine steals in a game once.
"[Last year at states] we played one of the best games of our whole season. We were in the game the whole time. At half time we were down by 10 points, but we came back, and actually took the lead at one point," Lohr said.
The girls caught up and were almost ahead of Milford Mill, but then the Referees made a mistake which kicked her out of the game.
"We were down by 1 point and were told to foul to stop the clock. I fouled, but the table said that was my fifth foul so I was out of the game, but it was only my fourth foul of the game. They messed up big time. We needed a three pointer, and we lost by 3 points," Lohr said.
"I like basketball because I have made a lot of friends through the sport, and I enjoy the exercise. I have been playing basketball for 12 years now. My sister played basketball, and I wanted to start playing to be like her. I played soccer when I was six, then I stopped because I wanted to focus on playing basketball," Lohr said.
Lohr's role model is her older sister, Claudia Lohr, "She played basketball and she helped me get better to improve my game."
Lohr is planning on continuing her basketball career in college, she is not sure which one yet, she has three to choose from,         "My three choices are St.Mary's, Marymount [not to be confused with Mount Saint Mary's] and Stevenson University," she said,
Although Lohr is unsure which university she will be attending in the fall, she admits that all three colleges have their advantages, "St. Mary's is pretty, my sister goes to Stevenson, and Marymount is located right outside of D.C.," Lohr said.
Outside of team organized basketball practices, Lohr focuses on training to improve her athletic abilities, "I go to the gym on the weekend mornings, I shoot hoops in my driveway, and I run on the treadmill too," Lohr said.
Lohr has team goals and personal goals for the upcoming season "Team-wise I want to get back to states. Personally, I'd like to make all- county again. I also want to be a leader for the younger people on the team," Lohr said.