Featured Athlete: Nick Danner, Seven Years of Leaving Adversaries in the Dust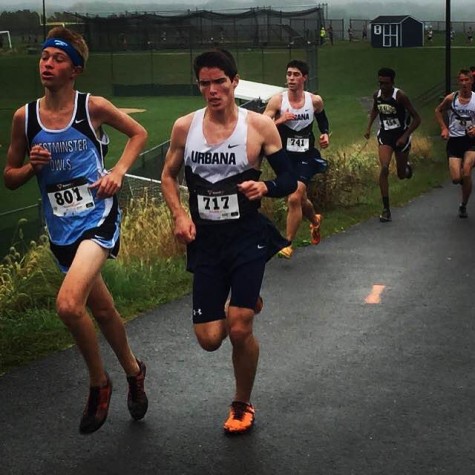 Eighteen year-old senior Nick Danner has been a major force for the Urbana Hawks Cross-Country and Track Team for the past 4 years. An extremely hard worker and great role model on and off the track, Danner wants to continue his stellar running career throughout senior year as well as college.
"He really sets the bar for the rest of the team through performance and personality," senior and fellow track mate Kevin Cardenas said. "I think that he inspires the whole team and challenges us to become better. He's developed some amazing leadership skills and has brought this team together many times when we needed to be," he said.
Having run for the last 7 years, Danner uses his extensive experience and training to produce the stellar times which make him such a valuable asset to the team. He currently holds impressive 800, 1600 and 3200 meter times of 2:00, 4:27, and 9:52, respectively. His astounding 800 meter time won him 1st place in the Outdoor Track Conference Championships.
"I'm really grateful to the entire track team for all of the love and support they have shown me these last 4 years. I couldn't have accomplished what I have without them and am also looking forward to 2 more fantastic seasons," Danner said.
Danner has improved tremendously in the past four years. As a freshman he started out with a 1600 meter time of 5:10 and has lowered that time by 43 seconds, and in the 3200 he has improved 93 seconds. His hard work and dedication have shown throughout his races.
"He is a natural born leader," teammate Steven Neubauer said. "His work ethic and charisma make it possible for the rest of us to accomplish our goals."
"He is always the first one in line to work out in the weight room to keep himself in shape, and you can really see the effects it has had in his races," said senior Diana Narvaez. "Everyone on the track team can appreciate what Nick has accomplished."
Danner hopes to extend his running career in college, and most notably hopes to attend Duquesne University, joining fellow teammate Maria Carberry for another four years.
"It is cool how we can say that we have been running together since we were in 7th grade in Lightning Running Club, and now we might be running in college together. By the end of college we might have been running together for a total of 10 years," Carberry said.
Danner has a good chance of coming in top two in both outdoor and indoor track states for the 1600 and 3200 meter runs, and based on his work ethic and previous accomplishments this does not seem far from reality.