Senior Golfer Takes Her Sport to the Next Level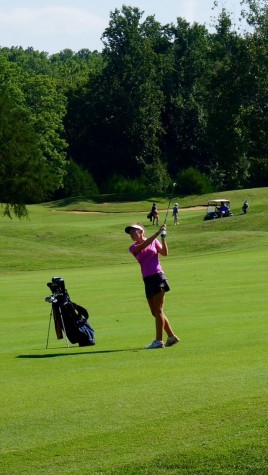 Many student-athletes aspire to further their sport at the college level, but only a few end up getting that opportunity. All of the physical work is challenging for students to keep up with while studying and staying on top of their school work. But for one of the few students who will be continuing her education at college and holding onto her sport, it is very exciting to begin the next chapter.
Madison Lewis, senior, will be furthering her education and playing golf at University of North Texas. She has been playing on the golf team at Urbana since her freshman year. After all of her years of golf, she couldn't see herself not playing in college.
"It has always been a goal of mine to play in college," said Lewis.
Although it is a vast commitment, she thinks it will be fun while also helping to keep her busy. Also, it will help her fit in easier in such a new setting. "My teammates are kind of like built-in best friends," said Lewis. They will help make it easier to feel a part of something and help take away from the nerves of having to meet all new people.
There are a lot of differences that come along with playing at the next level, the biggest being the leap in competition. Besides having to step up to the challenge with her play, she will get to experience a lot more travel than she did in high school.
Her team will get to travel to Hawaii twice while she is at the school, once in her first year and then again in her third year.  She will also get to go to Tennessee and other exciting places.
Along with traveling, the commitment also increases. She will have to be committed to practicing all the time while also participating in any extra obligations that go along with being a part of the golf team.
Being a part of a team at the collegiate level is very challenging because of all of the dedication needed to keep your spot on the team. But overall, "I'm excited, but nervous," said Lewis. She sees a lot of positives in her future and cannot wait to see what happens next.
Starting the next chapter will be nerve-racking but it is also a new beginning. Lewis has a great opportunity in her hands and it will be exciting to see what the future holds. University of North Texas has a very talented gift coming their way.