Breese and Lohr Reaching 1000 Points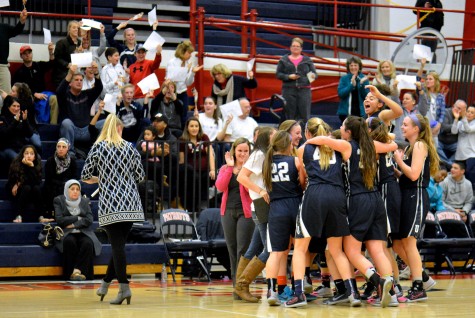 In January, 2 Lady Hawks reached a career milestone that no single player at Urbana has reached in the past five years. Seniors Regan Lohr and Kendall Bresee both scored their 1000th career point as Hawks within a week of each other. Before this year, no girls' basketball player had earned her 1000th career point since 2012, when both Lohr and Bresee were still in 8th grade.
Lohr and Bresee picked up the sport ten years ago, and have not stopped playing since. Both have been active players outside of high school basketball as well, playing for local AAU teams. Lohr plays for Blue Ridge Force, and Bresee plays for Team Takeover and Germantown Lady Panthers.
Lohr has been one of the leading players for the Lady Hawks since her freshman year, when she was one of two freshmen to make the varsity team. Bresee began her high school career at Good Counsel before transferring to Urbana halfway through her sophomore year.
In the past two seasons the girls have gone on to have one nearly undefeated season, and one playoff run that ended in a heartbreaking loss at states. The girls both have high expectations for playoffs this year, and hope to end off their high school careers with a win at states.
However, even without taking into account the postseason of their senior years, both players have something to be extremely proud of: scoring their 1000th career point. In high school basketball, scoring 1,000 points is a rare milestone that only few players reach, and it is extremely rare that two seniors both reached this milestone within a week of one another.
Lohr was the first to score her 1,000th point, doing so in an away game against Thomas Johnson High School, in a game the team went on to win. The accomplishment was celebrated by her teammates, coaches, family, and supporters during the game. "My mom [put pictures] of my face on sticks, and [our manager], Kelly McCarthy, made 1,000 point signs to give people. It made it so special and everyone was so supportive," said Lohr.
Bresee scored her 1,000th point a week later in a home game against Oakdale. After scoring, the team called a timeout and everyone rushed off of the bench to surround Bresee in celebration. In the stands friends and family cheered on Bresee with signs and pictures. "My mom made cutouts of me to give everyone," said Bresee. Bresee was later given the game ball to signify her accomplishment.
Though this was an individual milestone, both girls attribute much of their success to their teammates and coaches. "Coach Hackett has been supportive all season," said Bresee. The team has had an outstanding year and the chemistry on and off of the court has only boosted the level of play for Bresee and Lohr.
Next year both Bresee and Lohr will go on to continue their basketball careers at the collegiate level. Lohr will be attending Marymount University in Arlington Virginia, and Bresee will be attending George Washington University in Washington D.C.
While the two girls hope to achieve the ultimate goal, a state's title, both are extremely proud of what they have already accomplished during their time as Hawks. Scoring their 1000th points while surrounded by teammates, coaches, friends, and family is something each of them will never forget. "It was awesome," said Bresee.