Bresee Reflects on Her Career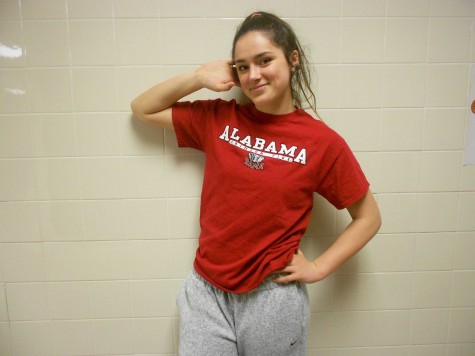 Dear Basketball,
I want to start off by saying thank you. Thank you for all of the doors you have opened for me, all of the people you have introduced to me, and most of all thank you for showing me what love truly is.
Ever since I was six years old, I knew you were the one. I knew you would be the one to go to when I had problems, or when I just needed to get away. Ever since my dad first put you in my hands, I knew we were going to be something great together; it would be me and you against the world.
At the age of 9 you became my life, all I could ever think about, all I could ever dream about. You became my obsession, my drug. I had never thought it was possible in fourth grade to be so deeply in love with you but you proved me wrong, you proved to me it was very possible. You had me driving 90 minutes three times a week just to be with you for two hours. What have you done to me?
At the age of 14 you made me rethink my home high school of Urbana because you made me think it was not good enough for me, but this is where you were wrong, this is where I hated you for a year and a half. At least once a week you made me go home in tears because now it seemed as if I was never good enough for you. You always picked someone over me due to the fact that they were better than I and I hated it, I hated you. You only allowed me to be home to see my family for about 3 hours every single day and I was bitter because of you. You made me so stressed I started losing hair and I did not know what was wrong with me until the doctors told me I had stress related alopecia, in other words, the partial or complete absence of hair from areas of the body where it normally grows: baldness.
For some reason I refused to let you go, I refused to let you get away from me. Regardless of how much you hurt me I still found a reason to love you.
At 15 you became familiar to me again. You started to gain my trust back; I began to love you again. You finally made me realize home was not Our Lady of Good Counsel, but home is Urbana and that is where I belonged. Things began to seem as if they were getting better for us. You gave me my first scholarship offer to George Washington University. The joy you gave my family and me on that day was irreplaceable. You made me realize all of the blood, sweat, and tears were finally worth it. You helped me beat the odds, and for that I thank you.
At the age of 16 is when I gave you all of my trust, and you began to turn your back on me again, or so it seemed. You gave me the opportunity of a lifetime, to play on the Team Takeover Nike EYBL team. Thirty – two teams in the country are fully sponsored by Nike and you gave me the opportunity to be on one of those? I was ecstatic. Until I realized what I had gotten myself into.
The day after Urbana girls' basketball had a heartbreaking loss in the state championship you made me drive all the way to Bowie for my first practice. I was tired, I was sore, and most of all I was upset, but you refused to give me a break. You again made me drive 2 hours three times a week just to be with the one I love, and it did not seem fair. As the long 5 months of AAU continued I began to grow fonder of you because you introduced me to some of my best friends and gave me a bond with them that I would not have changed for the world.
But then July came, you took me away from my friends, my family and most of all my home. You only allowed me to be home for 8 days in July, 8 days! You had me traveling around the world for you. I was wrong to hate you for this, because I was living in the moment and what I did not realize is how heartbreaking it would be to say goodbye to the AAU career we had together, look what we had accomplished together in just 8 years.
So basketball, to say the least we have had a love – hate relationship, but I want you to know I will never give up on you if you never give up on me. I still believe you and I are going to be amazing together and there has never been a doubt in my mind that you are close to the most important thing in my life. At times you are my life. I cannot wait to see what the future holds for us at George Washington University. I love you, forever and always.
Yours truly,
Kendall Bresee