Featured Athlete: Kimmy Cummings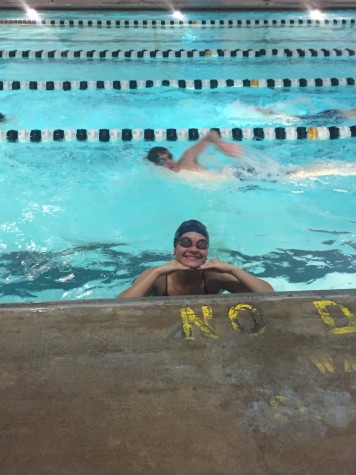 Very few people are willing to put themselves through pain in order to achieve glory. Kimmy Cummings, senior, is one of those rare, dedicated athletes who is willing to train hard every day to earn success.
Having won an individual event and a relay at the 2016 FCPS Swimming and Diving Championship, Cummings said, "Winning feels really good [because our relay team was] not projected to do as well as we did. We did better than expected."
Going into the next championship meet, Regionals, and then into States, Cummings prepared by training every day and making sure she had good sleep habits. She looked forward to her individual events of the 100 Yd. Freestyle and her favorite event, the 100 Yd. Breaststroke.
Kimmy has been swimming since she was six years old. She started on the Windsor Knolls summer swim team because her mom, who had a career in college swimming, encouraged her to. Enjoying her time on the Windsor Knolls team, she then joined a year round-club team called Monocacy Aquatic Club (MAC). She then decided to represent Urbana's swim team. To this day, she competes to make her mom proud, and to thank her for supporting her throughout her school career.
Head Coach Steven Howard said, "[She] leads by example. She [always] does the best that she can". Throughout the course of the year, Cummings has become more focused. "Her work ethic is there. She is more determined to do well. She wants to do well," he said.
Kimmy is a very encouraging leader. Teammate and friend Jessie Williams said, "She is [a] good [teammate]. She gets people pumped up. Before relays she says things to get [us] excited to swim".
Cummings is a supportive teammate, said First Team member and Urbana teammate Megan Nellis. "She encourages us to do our best and work hard. She is one of the better swimmers on the team. She inspires the team to see what we can do. If we put our minds to it."
"Teammates look up to her. She is hardworking and fun to swim with." said Teammate Adrianna Morris.
During the course of her high school career, Cummings has accomplished quite a bit. She was a finalist at the 2016 FCPS Swimming and Diving Championship. In her last year, she placed first in the Women's 200 Yard Individual Medley and second in the Women's 100 Yard Breaststroke. Also she was a member of the first place Women's 4×100 Freestyle relay team which dropped 7.53 seconds. She is the current 200 Individual Medley county champion.
Looking back at her career, Cummings' favorite part of the high school swimming experience was "being with friends. We have fun together."