Unified Bocce Wins Sliver and Bronze at District Tournament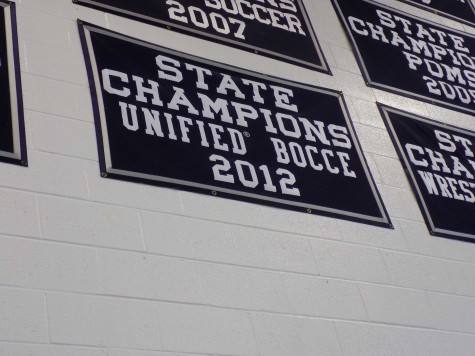 Unified Bocce ended their season strong with a silver and bronze medal at the district tournament. Both of the two teams competed in 3 matches over the course of the season, ending with a record of two and one. Unified Bocce is one of three unified sports played at Urbana and they compete against other teams in the county along with automatically qualifying for the district tournament at the end of the season.
The bocce team is known for their friendly comradery and positive attitudes amongst their teammates. The congenial atmosphere created by both special education and general education students is what makes this sport so unique. Charles Hontz, social studies teacher and Coach for Unified Bocce, said "the purpose of this program is simply to unify the whole school."
Practicing two days a week, most students who come out are willing and excited to work hard. Senior, Jim Sullivan, has been a part of the team since his sophomore year and he says that "everyone gets along well." Sullivan said his motivation to participate in the sport was that it "looked fun and it seemed cool to play with special education kids." Sullivan hopes in the future the Urbaniacs will be able to come out to a few of the matches.
Kevionne Thomas, Hannah Carbaugh, and Megan Wagner all agreed that Unified Bocce allows them to "have fun with friends." Similarly, getting the chance to meet new people and make new friends was what motivated the three girls to try out. Sullivan and the girls agreed that one thing they all appreciated from the sport is how they have gained teamwork and patience as individuals.
Hontz is grateful to be a part of the sport and he believes it is an all-around "great program." Hontz has always worked with special education students and enjoys the opportunity to do so as a coach. Eventually he hopes that people look at this sport just as they do soccer or football. "This game is so special in the way that it includes everyone and makes them have the same feeling as a football player gets stepping out onto the football field," said Hontz.
Just like other sports here, Unified Bocce has a State Championship Banner hanging up in the main gym as well. "To those athletes on that team it means something so important, that they were a part of something great," said Hontz.