Featured Athlete: Bredan Schmitz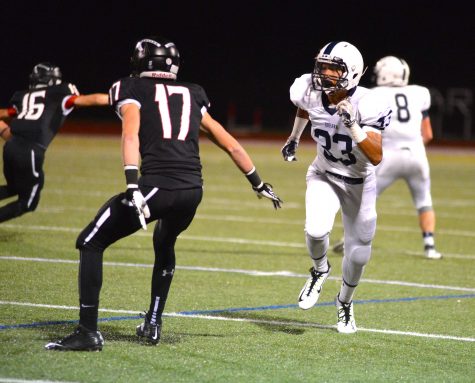 Coming into freshmen year, many students dream of playing a sport for their high school team, but it is not until their junior year that most of these students get to play at the varsity level. For freshman Brendan Schmitz, this opportunity came very early.
In the fall of his freshman year, Schmitz played and eventually started as wide receiver for the varsity football team. In the winter he was moved up early in the season to play for the varsity basketball team and ended the season as one of five starting players. This spring he starts as a midfielder for the varsity lacrosse team.
Coming out of middle school, Schmitz had high hopes for his athletic career at UHS. "My goal was to play all three varsity sports," said Schmitz.
His accomplishments as a freshman are seemingly unprecedented. "It's impressive for him to be a 3-sport varsity player as a freshman. It's probably never been done before," said teammate, Parker Mellott.
Though at first being on a team with predominately juniors and seniors can be intimidating, Schmitz has found the experience to be very rewarding. "I was nervous at first, but it's fun, and it's more serious," said Schmitz.
For someone of his age to have the skills and athleticism needed for a varsity sport is impressive, but Schmitz' attitude and dedication are what really sets him apart. While all of Schmitz' teammates raved about his skill level and ability on the court and field, they emphasized the impact that his work ethic and attitude has on his play, and on the team's play. "He's naturally a great athlete, but he's very humble and a great teammate. He is someone you want on your team," said Mellott.
Outside of school, Schmitz plays club lacrosse for Lax Factory, and AAU basketball for various teams in the area. Having little to no time outside of athletics and academics does not seem to bother Schmitz, and when he does have any free time he spends it practicing. Because there is almost no transition time between the fall, winter, and spring sports seasons, players who participate in multiple sports are often left to practice and prepare for the season on their own time. In order to prepare for his next season, Schmitz said "I practice whenever I have time off."
In today's age, it is common for athletes to pick up many sports at a young age and eventually pick one sport that they excel in to continue to play. It is rare to find someone whose athleticism is so versatile that he can excel equally in three sports at such a competitive level.
"He has three sports that he excels in, and it's a testament to how hard he works," said teammate Luke Summers.
Schmitz has no plans to stop playing any of the three sports in high school; however, he hopes that he'll be able to choose one sport to play at the collegiate level. Schmitz said that football is his favorite sport, but he believes he is best at lacrosse which will make his decision for college even tougher. "I want to play football or lacrosse in college, but you never know," said Schmitz.
Schmitz' dedication to improving his play every single day will surely leave him with plenty of options for college sports over the next few years. For now though, he is focusing on his time at Urbana, improving himself and contributing to all of his teams.