Hines Takes Over as Football Head Coach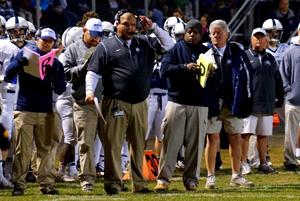 Picasa
As the Urbana Hawks Football team was left in their fourth week with no head coach, someone needed to step up and take charge. This person happened to be Coach Ryan Hines, the Athletic Director for Urbana High School.  With past experience as the head Football coach here at Urbana, Hines was a good candidate for the job; hoping to turn the 0-3 season around, he quickly went to work, helping improve the team's ability to win.
Coaching can lead to a lot of stress, and in this particular case it was a heavier load.  Hines said managing time is his most difficult job.  "Trying to get in practice with an organized and effective plan, making scouting reports and practice scripts along with my regular duties as Athletic Director [all have to be accomplished]" he said.
Hines has little down time; when he is not working at school, he is working on the field helping football players improve their skills, or he is at home watching film studying for the next game; thus proving his dedication for his new team. Always being pressed for time, Hines said, "Getting the most out of every hour is really the most stressful."
Change can be tough for teams, especially mid-season when things just seem to be rolling in the wrong direction.  Trying not to make it hard on the players, Hines said, "I've tried to keep things as normal as they would have been on one of my past teams." With almost every player knowing Hines as a teacher or the athletic director, the transition should be easier to handle.  Although a new coach may be a distraction to many on the team at first, the thought of a new coach will drift out of their minds within a couple weeks and turn into another daily routine.
Every team has goals, whether it is to be state champions or simply to build a strong team bond. Hines said his main goal is to, "Win the I-70 trophy."  This trophy is awarded every year to the winner of the Urbana vs Linganore Football game, because when Urbana High School was created, I-70 split the districts for the two schools.
Hines said, "As they [the players] walk off the field at the end of the season they will be carrying something that can be a reminder of their ability to overcome adversity and achieve.  It will be part of their character they can use through the rest of their lives."  Hines is not only pushing the goal to win, but also the goal for his team to improve their character as their time being student athletes dwindles down and they begin to grow into respected adults.