Can Alabama Regain the Throne?
Alabama football is no stranger to having to replace players. Shown by the countless former Alabama players in the pros though, this year seems different as seven underclassmen declared early for the draft. Along with the most accomplished senior class in Alabama history and possibly NCAA history running out of eligibility. The senior class went to four straight playoffs and four straight title games and won two- National Championships (2015, 2017). Along with three SEC titles and had a record of 55-4.
Offense
On offense, Alabama returns eight starters, but even that is misleading as they return four of their top five pass catchers, the only loss being Irv Smith Jr.  They also return two starters and two players with starting experience from an offensive line that was one of the best in the nation last season. The passing game should still be as good if not better than last year. While the run game suffers heavy losses in production and leadership, Alabama returns 65% of their touchdowns, although most of those are through the air.
Alabama does lose a fan favorite, Jalen Hurts, to Oklahoma as a grad transfer. Jalen went 26-2 as a starter and won SEC offensive player of the year and freshman of the year in 2016 before he was replaced by Tua Tagovailoa in the 2017 championship game. Hurts played here and there this year, but was the savior when Tua went down in the SEC championship game. Alabama still has starter Tua Tagovailoa and last year's third-stringer Mac Jones. They also have Tua's little brother, Taulia, and Paul Tyson coming in via recruiting. Alabama looks to be set at the quarterback position for the next couple of years.
Skill Positions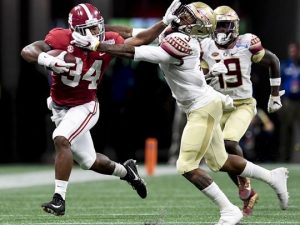 Alabama is tasked to replace one of the most versatile backs to ever go through Alabama and one of the highest producing backs in Alabama history in Josh Jacobs and Damien Harris, respectively. Rushing-wise, Alabama returns 42% of the yards, 44% of the carries and only 33% of the touchdowns. Damien Harris, in the final year of his outstanding collegiate career, rushed for 876 yards and 9 touchdowns on 150 attempts. Josh Jacobs started the year as the second or third back in the backfield and ended as the 1B behind Harris. Josh Jacobs provided 640 yards and 11 touchdowns on the ground while getting 247 receiving yards on only 20 receptions and adding another 3 touchdowns. Jacobs also helped out in a return role on kickoffs providing 428 more yards and a touchdown there.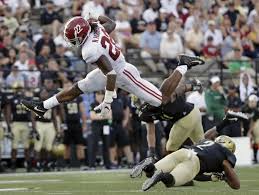 While for most schools this would be a big cause of concern, Alabama has Najee Harris, 783 yards and 4 touchdowns on 117 attempts to help replace the production. Najee was used mostly in late game situations to run out the clock, especially as the season went on. Najee is a former 5 star running back from the class of 2017. Brian Robinson also returns; he rushed for 272 yards on 63 carries. Trey Sanders the number 2 running back and 4-star recruit also comes to Alabama to help fill the hole left by Damien Harris and Josh Jacobs. I expect Alabama to use the three as they used both Harris and Jacobs last year but with Najee stepping into the feature back role. A big concern of this group is the lack of receiving production coming out of this group. Only Najee Harris returns with receiving production but Trey Sanders is a capable backfield threat. Look for Alabama to play him immediately, especially on passing downs.  Some believe that this backfield can be as dangerous as any Alabama has seen if it can reach its potential.
Now while Alabama returns all four of its top wide receivers, it loses its top two tight ends, Irv Smith Jr. and Hale Hentges. Irv Smith Jr was the top tight end by far with 44 receptions, 710 yards, and 7 touchdowns. Hentges and Smith were used as blockers in the run game. With Hentges it's not as much about production as it is about the leadership; he was voted a permanent captain this year by his teammates. He was also awarded a couple of other awards by the team due to his leadership. Hentges only had 4 receptions for 34 yards but did have 3 touchdowns.
Alabama may look to use more four wide receivers and one running back sets to accomplish two goals, the first being to maximize all of the talents they have at the receiver position, and the second being to cover the loss of Irv Smith at tight end. While this is a possibility, I don't see Nick Saban using this as his main formation because Alabama is a physical team. Taking away the tight end would take away some of the power run plays we come to expect from Alabama. Watch for Kedrick James and Miller Forristall to be used as tight ends. Alabama returns 82% of their receptions led by the current sophomores trio of Jerry Jeudy (65 catches, 1315 yards, and 14 TDs), Henry Ruggs (46 catches, 741 yards, and 11 TDs) and Devonta Smith (42 catches, 693 yards, and 6 TDs). They also return breakout freshman receiver and returner Jaylen Waddle (45 catches, 848 yards, and 7 TDs). The only problem with this group is making sure everyone gets enough touches.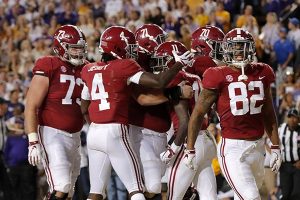 Offensive Line
Some of the least talked about but most important players are the offensive lineman, especially for a power run and play action team like Alabama. Alabama loses two staples of the line center Ross Pierschbacher, LT Jonah Williams, and LG Lester Cotton. With Williams leaving it allows Alex Leatherwood to slide back to his natural position of left tackle. Fellow returning starters/ role players include suspended Deionte Brown at left guard, Matt Womack at right guard and Jedrick Wills at right tackle. If Deionte Brown is suspended into the season look for Emil Ekiyor to fill in for him. Chris Owen will replace Pierschbacher at center. This group returns four players with starting experience which will be beneficial to Chris Owens and the rest of the offense.
Defense
When you think of Alabama you think of defense. Last year Alabama lost all six players in the secondary(includes STAR and dime) along with some other crucial players. Alabama has some key names leaving in Quinnen Williams, Deionte Thompson, Mack Wilson, and Christian Miller. Alabama returns 5 defensive starters and two more back from injury. With Williams, Buggs, and Miller all leaving Alabama only returns 38% of their sacks and 48% of the Tackles For Loss from last season. This could cause some issues early in the season but with a veteran secondary and linebacker group, Alabama should be able to offset some of the losses.
Defensive Line
The biggest name leaving is DT Quinnen Williams (71 total tackles (TOT), 19.5 tackles for loss (TFL) and 8 sacks). He was a disruptive force inside and was part of the reason for Alabama shutting down the run game and getting to the quarterback.  Alabama loses DE Isaiah Buggs (52 TOT 13.5 TFL and 9.5 sacks), off the defensive line that wreaked havoc on opposing offenses. Buggs was a force coming off the edge. Williams got the attention but Buggs put up another spectacular season and his presence on the edge will be missed. Alabama returns Raekwon Davis (5.5 TFL and 1.5 Sacks) at DE. He will anchor a line along with Phidarian Mathis (18 TOT) at DT and LaBryan Ray (39 TOT, 6 TFL, and 2.5 Sacks). While Raekwon is a returning starter both Mathis and Ray have seen some playing time. LaBryan Ray made his big splash against Auburn after Buggs went down. Ray filled in nicely with 9 tackles, a tackle for loss, and a sack. Look for Alabama to look at him to be making plays early in the season as well. This unit will have some hiccups but should be able to recover and make an impact.
Linebackers
Moving over to linebacker Alabama loses senior Outside Linebacker and team captain Christian Miller (34 TOT 11 TFL and 8 Sacks). The third biggest name that Alabama loses is Middle Linebacker Mack Wilson(65 TOT 4.5 TFL 1 Sack 2 interceptions(INT) and 5 passes defended(PD)). Wilson also was the leader of the defense, now this role will fall onto Dylan Moses(86 TOT, 10 TFL, and 3.5 Sacks). Alabama does return Anfernee Jennings (50 TOT, 13 TFL, and 5.5 Sacks) and gets Terrell Lewis back from his offseason ACL tear at OLB. They also kept OLB Eyabi Anoma off of the transfer portal. The OLB group at Alabama has the ability to become dangerous which can help out the defensive line if there are some growing pains there. Along with Moses, Ale Kaho will take over the other ILB position, the only concern is that Kaho has not seen a lot of playing time so there could be some mental lapses early in the season.
Secondary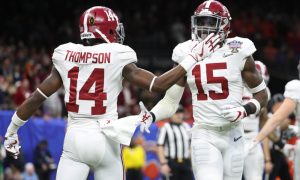 In a secondary that replaced all six starters this year, this group played great, even after Trevon Diggs went down mid-season. Alabama loses ball hawk safety, Deionte Thompson (78 TOT, 3.5 TFL, 2 INT, and 6 PD). Thompson was the leader of the secondary and maybe the second biggest loss for Alabama defensively. They also lose Savion Smith at cornerback (60 TOT, 3 INT and 5 PD), Smith is an interesting departure as no one really saw it coming as most thought he could have spent another year in college.
Alabama gets back Trevon Diggs (20 TOT, 1 INT, and 6 PD in only 6 games) and returns Patrick Surtain II (37 TOT, 1.5 TFL, 1 INT, and 7 PD) coming off an excellent breakout freshman campaign. They also return Xavier McKinney (74 TOT, 6 TFL, 3 sacks, 2 INT, 10 PD) at the other safety spot. Shyheim Carter (43 TOT, 3.5 TFL, 2 INT, and 10 PD) stepped into the STAR or nickel role and was a good contributor, he also brings the feel Minkah had where he can multiple roles effectively in the secondary. Alabama is looking for him, along with the rest of the returning starters, to take it up a notch. Jared Mayden (17 TOT, 1 TFL, 1 sack, and 2 PD) is the one new face in line for a starting role. Throughout the spring Alabama is giving different looks in the secondary. Trevon Diggs is getting work at the Star and Carter, hindered by an injury, is getting looks at safety across from Xavier McKinney. The biggest red flag for this group is depth especially at safety, Alabama will be looking to some new faces, like Jordan Battle and DeMarcco Hellams, both 4-star safeties in this years class, to come in and provide immediate depth. As shown in Spring ball, Alabama could and most likely will look to transition some cornerbacks to safety to help with depth.
Special Teams
Now anyone who watches Alabama knows that special teams is an area of weakness for the Crimson Tide. Alabama returns shaky kicker Joseph Bulovas (92.6% on extra points and 77.8% on field goals), while he could improve this season most Bama fans would rather not tempt that. Will Reichard, maybe the most important recruit Saban has gotten, is the top-rated kicker in the 2019 class and looks to improve the kicking woes that have plagued Alabama for years. Highly touted freshman Skyler DeLong (16 punts, 34.4 avg) didn't perform up to where he was needed. Mike Bernier (25 punts, 38 avg) stepped in and performed better but he has graduated. Skyler DeLong looks to improve off last year and take over but Reichard can also punt if DeLong cannot improve.
Regaining the Throne
Alabama will probably make another run for a National Championship even with the losses. Alabama is consistently the top team in recruiting so the talent is there. The passing game will see big improvements in Tua's and the receivers' second year starting for the most part. The only area offensively that might see a drop off is the run game, but with Najee Harris and newcomer Trey Sanders, most are not worried. The big guys up front or the offensive line returns four players with significant time. The main thing for offensive line groups is experience and familiarity with each other. As is normal for Alabama, this line could be one of the best in the nation again. The defense is very used to the reloading plan that Alabama has to run each year. The secondary could easily make claims to one of the best in the country with playmakers returning. The linebacker group should be solid as a whole with only one hole, as they return Butkus finalist Dylan Moses and get Anfernee Jennings back as well. The D-line is the only question but it is anchored by Raekwon Davis, who is looking for a breakout season.
Overall, Alabama has a few question marks scattered throughout the team, but if players come up and take them, no one will be worrying about them come season end.