Cozy Fall Drinks to Carry You Through Fall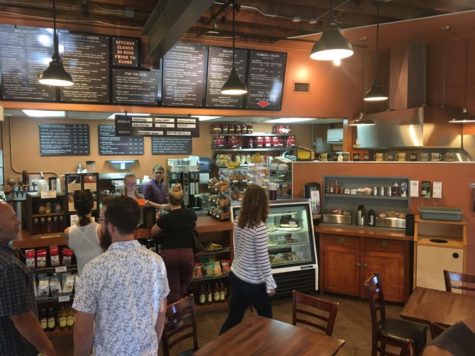 URBANA, MD- Fall has officially started. It's back to freezing temperatures in the morning, and the brisk weather in the afternoons. What's more perfect than relaxing with your favorite drink on a cool fall day? The possibilities are endless. You could choose the iconic pumpkin spice latte, or what about the classic apple cider. There are a variety of different options. Some people prefer hot drinks during winter, while others prefer iced ones to match the temperature outside.
"You know I like iced chai tea lattes; you will never catch me in the fall with a hot drink." Said Caty Croman, a 2021 graduate of Urbana High School. Celeste Valero, on the other hand, a senior at Urbana High School, has a different opinion. "Warm chai tea lattes are the best. Chai tea is perfect for fall because of the cinnamon taste." The "perfect" Chai Tea is a balanced mix of black tea, varying spice mixes, milk, and sweetener. Don't worry though, luckily for those of us who have sensitive taste buds, there are many different variations of Chai Tea spices to enjoy! You could go with the Masala Chai, which has a spice mix of cinnamon, clove, cardamom, ginger, and nutmeg. This recipe set the precedent for the others to come. Adaptations to the spice blend emerged after a short period of time.
Speaking about apple cider, Sasha Zvaners, a 12th grader at Urbana High School, says, "When I think of fall, I think of hot apple cider." Traditionally apple cider is made from a mixture of multiple different apples in order to give it that balanced taste we all know and love. For those people who prefer a sweeter cider should try a blend of Golden Delicious, or Red Delicious varieties. If you like a sharper tasting cider, you could choose a hot mix of Jonathan, Pink Lady, or McIntosh apples. Arguably the ideal apple cider is a mix between sweet and sour flavors.
When interviewing students and teachers, we had a few responses from people who didn't necessarily love fall-flavored drinks or had a few unconventional ones. Mr. Largent, when asked what his favorite fall drink was, said to us "I do not really enjoy fall, it is my least favorite season, but I would choose mulled wine with some cinnamon." Mr. Absher told us he preferred coconut water over any fall drink.
Finally, the long-awaited Pumpkin spice latte. It is known as a Starbucks trademark special and one of the most loved fall drinks. It's origin story starts in 2003, when Starbucks started to develop the pumpkin-flavored drink. The developers experimented with different mixtures and combinations of pumpkin spice and other flavors. They ironically ended up deciding on a recipe that had no pumpkin in it at all. The basic pumpkin spice latte is a coffee drink made with a mixture of spices (cinnamon, clove and nutmeg), cream and optional espresso. The drink is often topped with whipped cream and pumpkin spice on top.