Baby, it's cold outside: what to do this December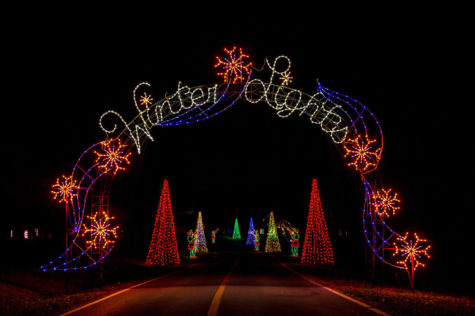 Winter has returned to Maryland. And, while it might be more rain than snow, we can still make the most of the season! Whether you're looking for that perfect gift for your parents or a way to test your balance (while getting Instaworthy pics), here are four student-recommended things to do when it's cold outside. 
Winter Lights Festival 
Open nightly from November 25th to December 31st, this popular attraction showcases some of the best Christmas lights that the DMV has to offer – all from the comfort of your car. Located in Seneca Creek State Park, this is a little bit of a drive, but it's totally worth it. Neesha Pater, 12, said she "love[s] the lights there, and love[s] not having to stand in the cold weather." Think of it as the introvert's festival. Tickets are $15 during the week and $25 on weekends, and it's best to purchase them in advance on their website. 
Holiday Shopping
Ah, yes: it's the time of the year for procrastination on purchasing holiday gifts. For the past two years, we've gotten used to shipping delays and the stresses of holiday gifts not arriving on time.But it doesn't have to be! 
For the past two years, we've gotten used to shipping delays and the stresses of holiday gifts not arriving on time. So, why not shop at small businesses in Frederick instead? Downtown has tons of shops to explore, so you'll totally find gifts for everybody on your list. Added bonus? Feeling good about giving back to your community. 
Snow Tubing
While it might be too cold to get on a roller coaster this time of year, there are definitely some alternatives. If you've even gone water tubing, snow tubing is the same thing – except with steep slopes and snowflakes.
Located at Ski Liberty resort, snow tubing is a staple for many Urbana students. Still doubtful that this will give you that roller coaster rush you're searching for? Well, Hope Gue, 11, says tubing "definitely gets [her] adrenaline up". While Ski Liberty is not in Frederick, this popular winter attraction is only a 45 minute drive away, not to mention a perfect all-day activity with friends or family. After you're done with the slopes, make sure you stop into Liberty's food court and grab some hot chocolate. 
Ice Skating 
You don't have to be an Olympian to enjoy ice skating! 
This familiar wintertime staple can be enjoyed by just about anyone, and is both a fun challenge and a test of balance –  Not to mention getting those Instagram-approved ice skating pictures. You could go the classic route and skate indoors at Skate Frederick – or, if you're feeling adventurous, go a little further south and check out Rockville Town Center's outdoor rink! Celeste Valerio, 12, said "I go skating with my friends every year… it's like a tradition." Whether you decide to stay inside or go out, it's sure to be a fun way to spend the afternoon! 
So, even if winter ends up being a little more rainy than snowy, know that there's plenty of cold weather friendly things to do all around Urbana. That's all for this month. Happy exploring!