Sports Spotlight: 3 Friends Reflect on Their Experiences in the UHS Academic Team
For 41 years, the Frederick County Academic Tournament has been open for students to test, challenge, and recall their knowledge in fun academic team competitions. To play in the academic team tournament, students have to try to buzz-in in a timely manner and answer the question asked correctly to gain a point for their team. If their answer is incorrect, their team loses a point. Each tournament consists of 5 rounds. In rounds 1, 3, 4, and 5, there is a buzzer system for team recognition and a variety of questions asked based on a theme. In round 2, there is an individual school round where 6 questions from a variety of topics are asked.
According to FCPS, Linganore teams have won the tournament nine times, Frederick High and Walkersville teams have won it six times, teams from Gov. Thomas Johnson and Middletown have each won it five times, teams from Urbana and Brunswick have each won it three times, and teams from Catoctin and Tuscarora have each won it once since 1982.
Urbana's academic team leading with 25 points.
This year, Urbana students competed and prepared for 8 weekly academic team tournaments. Each week, an academic team tournament was hosted by FCPs with a different theme. The themes for this season consisted of astronomy, British and American Romanticism, oceania geography, World Cup Soccer, world religions, post World War ll Europe, Marvel Cinematic Universe, and greek mythology. Throughout the 8 academic tournaments, Urbana competed with the following schools: Catoctin High School, Oakdale High School, Middletown High School, Thomas Johnson High School, Linganore High School, Frederick High School, Tuscarora High School, Walkerville High School, and Brunswick High School.
For the 2023 season, Urbana students managed to win 5 matches. Unfortunately, the academic team's 2023 season is over for this year. However, a few fellow Urbana academic team participants volunteered to share their personal experiences with this year's season.
Every Tuesday and Thursday, students attended academic team practices that were hosted by Mr. Hayes, a UHS English teacher. Practices involved dividing the students into teams and a buzzer. The coach read questions from a book, and students in teams would have to buzz-in if they knew the correct answer. According to Mona Kurian, a freshman participant in the academic team, teams would practice rounds in different categories such as literature, movies, sports, and music.
"My experience in the academic team has been wonderful. I mean twice a week we had practices where we had buzzer rounds where everybody just competes and we all learn new things. We have these books for general knowledge and we get ready for every week. Tournaments are held on Friday where we go against 2-3 other teams. We would sometimes participate in 1-2 matches which each consist of 6 rounds," Suhaan Pastakia, a freshman participant in the UHS academic team, explained.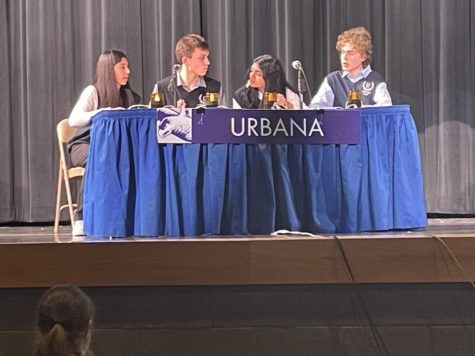 When asked about difficult experiences in the academic team, the members expressed their thoughts on being prepared on stage during the academic team tournament. "The hardest experience was going up against a really hard team who was really good and well-prepared," Mona Kurian revealed. "I mean my hardest moment on the stage was just honestly being on stage and getting over those nerves; the second you think you know the answer, you might not actually know it and every second you waste not answering gives the other team a chance to buzz-in and get it right. So, you have to draw the line between getting it right and knowing you're accurate and not letting other teams buzz-in," Suhaan Pastakia explained. Overall, participating in the academic team involves a lot of risk-taking when it comes to answering questions for your team.
Alexis Steele, another freshman participant in the UHS academic team, claimed that being a part of the academic team allowed her to be more secure and gave her more confidence to know when she was right. A lot of times with the buzzer she stressed over whether or not she should buzz-in due to the high levels of risk. But overall, Alexis seemed to have enjoyed her time on the academic team. "At first I only really joined because all my friends wouldn't stop talking about it. But it became a really positive thing for me. You would think something called the academic team would involve actual work but instead, it's really fun. There's a whole community of trivia and I really look forward to it on Tuesdays and Thursdays," Steele explained.
Check out the link below to learn more about the academic team and stay tuned for the 2024 season! https://www.fcps.org/academics/academic-tournament
Sources:
"Academic Tournament Schedule and Results." Frederick County Public Schools,
https://www.fcps.org/academics/schedule.