Empty‌ ‌stages:‌ ‌How‌ ‌the‌ ‌show‌ ‌goes‌ ‌on‌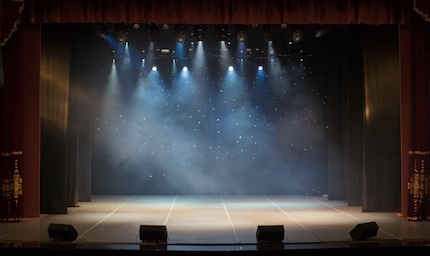 "The arts will be one of the last things that will be able to get back fully," UHS director and theater teacher Stephen Ward stated during an interview regarding how theater can continue during social distancing and distance learning. Obviously much has been disrupted due to Covid-19, but perhaps one of the greatest impacts has been felt by those in the arts.
I remember in March when it was first announced that we wouldn't be able to put on the show. There were tears, there was anger. As for myself, I was more stunned than anything else. Just earlier that week, my friend had insisted it wasn't the end of the world when I made a joke about the apocalypse, but for the people who had poured their heart and soul into the musical The Little Mermaid, it felt like the end of the world.

As the old saying goes, the show must go on. But the question is, how can we put on a show if it's not safe for people to sit in a theater?
According to Ward, the current plan it to put on a radio show version of the classic It's a Wonderful Life this winter, with students practicing their voice acting over their stage acting. When asked about just how the production will work, he claimed, "It would be a detriment if I had all the decisions made right now, because I really want to rely on the creativity of my students and have them be a part of that process. It seems that perhaps students may end up shaping an even larger portion of this show than in a standard play or musical."
Ward also mentioned a few ideas for stage crew or tech crew, saying, "They'll be able to create sound effects, music, some of my tech kids will be able to edit…create some virtual backgrounds…they can put some artistry to give an audience something to look at while listening to it."
Auditions for It's a Wonderful Life will be held over Google Meet sessions. Information regarding audition dates should be available relatively soon.
The radio drama isn't the only way students can be involved in the theater program. Ward believes that, "We're able to do a lot more of team building when we're not focused on a production…I find that to be just as important as performance in the world of theater." Ward along with his International Thespian Society leaders are coordinating Google Meet hangouts, trivia nights, and movie nights for these purposes. He also reports that some students are planning to create some ghost stories for Halloween, as well as having the chance to perform monologues virtually.
Plans for the future remain loose, as Ward feels that planning too far ahead in these uncertain times would be a waste of time, preferring, or perhaps needing, to think in the now. Normally, he would have had the chance to plan and coordinate for the coming year in May. However, due to the uncertainty of what will be feasible come spring, they did not have the chance to make any in-depth plans. Ward remains optimistic, however, and hopes to have a proper musical ready to be performed in May. While the title of the productions remains a secret, he has given a few hints: it requires no set, it can be done socially distanced at an outdoor performance, and it should be one of the biggest things the department has ever done.

All that is certain is that the theater department will continue performing. "They've missed it. They deserve it. Much like athletes, performing kids want to get back to some sense of normalcy as much as anyone else… The arts and theater always find a way."