Hungry For Another State Championship? Bocce Is
Kyle Orens , Managing Editor, Sports Editor
January 19, 2017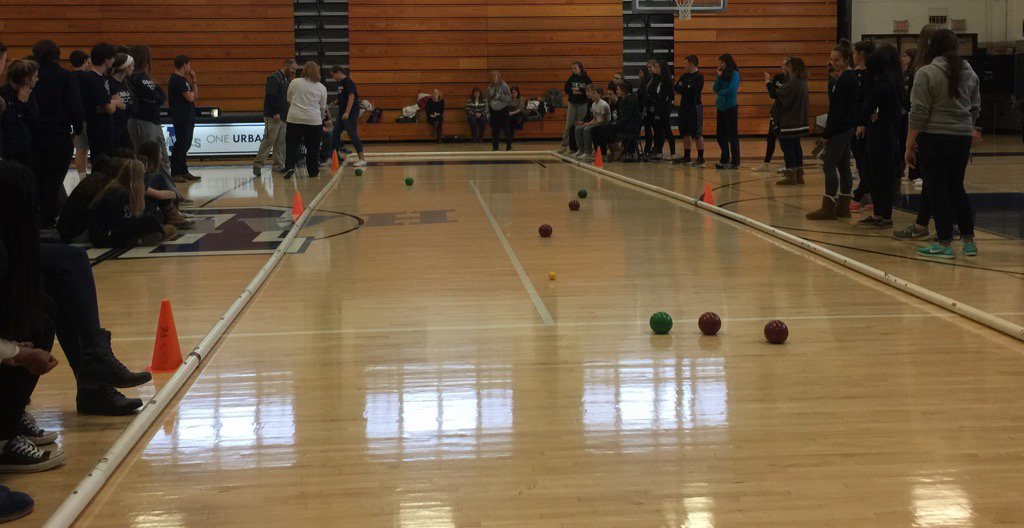 PHOTO COURTESY OF URBANA ATHLETICS
The Special Olympics gives men and women with intellectual disabilities a chance to show off their athletic talent. It allows participants to find new strengths, skills, abilities, and joy, plus it adds confidence and fulfillment into their lives.
The athletes involved are truly an inspiration to the world, showing us how to open up our hearts and minds to all sorts of possibilities. The Special Olympics is at the forefront of showing the world the abilities of people with disabilities. This goal is achieved through sports such as basketball, handball, and swimming. The Special Olympics is similar in almost every way to the regular Olympics, however it sends the message that people with intellectual disabilities are just as, if not more capable of greatness as anyone else.
Frederick County high schools participate in a unified sports program which brings together athletes with all different types of backgrounds and gives them opportunities to prosper in areas where before they may have not had much success. The unified sports program offers three sports: tennis, bocce, and track and field. Tennis takes place in the fall season, bocce in the winter, and track and field in the spring.
With low temperatures and snow just around the corner, it is now bocce season.
When most people hear the word bocce, a look of confusion strikes their face. They have no idea what the sport is. Unified bocce is a game where teams of 8 face off against each other. The 8 people split off into smaller teams of 4 and position themselves on each side of the court. When it is their turn, they try and get their jell-filled balls as close to the pallino as possible. The pallino is a small, yellow ball that is thrown down the court at the beginning of the game, and is the target for the larger, gel-filled red and green balls that are thrown by each team. The team with the ball or balls closest to the pallino wins points for that round. The team with the most points at the end wins the game.
This year, whether it is going to be their first or last year playing bocce, everyone gearing up for the 2016-2017 unified bocce season is very excited.
Jake Wills, a junior, is getting ready for his first bocce season. Wills said, "I am very excited, because I love that bocce really promotes teamwork."
Even though this is his first year playing bocce, Wills already has experience playing unified sports.
Wills said, "This is my rookie year, but I played unified tennis the last 3 seasons, so I know I am up to the task."
Wills has one goal for this season: to win a state championship. Even though he has only had one practice, Wills is already loving bocce and knows that he has a fun season ahead of him. "Getting better collectively and as a unit has to be my number one favorite, but being able to give my all at each and every practice and game is definitely up there."
Megan Wagner, senior, is one of the unified athletes, and is getting ready for her fourth season of bocce. Wagner is super excited to play bocce this year, and is hoping that this year she does not have to hear the buzzer from the scoreboard. Wagner said, "I am very good at throwing the ball."
This year Wagner has one goal: a winning season. Since she has been playing for 4 years now, Wagner has a few favorite things about bocce, and some pretty awesome experiences.
Wagner said, "I love being able to play with my friends, and I like being able to throw the yellow ball. My favorite memory though was beating Oakdale."
Wagner had the privilege of playing on the 2013 bocce team that won states. She said, "It was pretty good winning states, and I want to win states again this year."
Social Studies teacher Charlie Hontz coaches the unified bocce and tennis teams. Hontz has been coaching bocce for 5 years now, and still loves it. Hontz said, "It is a fun and interesting sport, and it is a very accessible sport. It brings together all different types of people from around the school. People who may feel they do not have success with other sports find success here [bocce].
Being the coach of unified bocce comes with lots of different responsibilities, especially when there are a lot of people playing, like this year. Hontz said, "I want to try and get as many people playing as possible, and I want to win districts and get back to states."
The unified sports program achieves the goals of the Special Olympics by teaching people to open up their hearts and minds to all different types of possibilities. It shows that no matter who is out there playing, no matter who is out there on that court, that greatness can be achieved. Unified sports brings together people who are not friends, and probably never would be friends and gives them a lifelong relationship. It gives people memories and experiences that they will never forget, and most important of all, it tells people to never judge a book by its cover, because deep down, we are all the same, and we are all capable of anything we set our minds to.