Student Spotlight: Who is Riley Smith?
With the rise of social media, society has begun to fail to see athletes as real people. Beyond the praise and even criticism of both professional and even high school athletes, we forget to see beyond the athlete to the individual.
Many know Riley as the star player on the successful state semifinalist football team. They know him for racking up 932 total yards and an astonishing 17 touchdowns on the offensive side of the ball. Additionally, he collected 4 interceptions and was one of the leading tacklers on the defensive side. He is also known for being the shortstop and key contributor on the 18-5 state finalist baseball team last spring. With all of these accomplishments, it is sometimes hard to recognize the real Riley Smith on the field with the one off of the field. 
Well, I was able to sit down with 'The Riley Smith' and ask him some questions to get about himself.
Riley has played sports since he was a little kid, including baseball, football and even basketball. Through his middle school years, Riley started to lose the passion to competitively play basketball, though he still enjoys playing in recreational leagues occasionally.
The question is why were Baseball and Football his favorites? Riley enjoys how both sports are completely different and are played with different tempos. "Baseball is more of a slow comforting sport for me–relaxing in a way, while football is more of a thrill, fast; like one massive adrenaline rush for 4 quarters". You would think that an athlete would only seriously enjoy one side of these polar opposites, yet he enjoys the variety. 
One of the most impressive parts of Riley's game has been his ability to track the ball in the air. He has made numerous impressive catches especially in football. 
When I asked him about his thought process leading up to a catch, he kept it simple. "Just trust the work I've put into it, I know I can do it, I shouldn't have any doubt in my mind I can't catch any pass".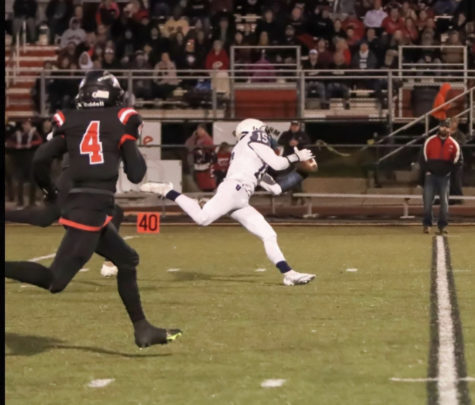 His main memory was his outstanding catch he had versus the Linganore Lancers.(Pictured above). Riley broke his wrist 2 weeks prior in a game against the Oakdale Bears. 
He was forced to play the Linganore game with a massive cast on his left hand. However, that didn't stop him. He posted 9 receptions for 102 yards which was his 2nd highest performance outside of the game where he suffered the injury. "I'd live that game over and over if I could ".
Another unsung trait about Riley is how he handles the platform of being a "star athlete". He understands his standing and values it–To do everything to not abuse it. He'd rather people just see him being himself. A quiet, humble, relaxed person. Additionally, he values one of the many life lessons his father has taught him. The golden rule. "Treat others the way you'd want to be treated" is the motto he carries with him. 
"My dad raised me right–He isn't perfect like all other people in this world but he's taught me everything I need to know about how to effectively function in society with valuable life lessons and morals".
 He added that one of the most important traits he's picked up from his father is his persistence. "He's taught me to just keep going as well, everyday is going to be different, there will be good days and there will be bad days. The only thing left to do is deal with it and move on". 
Sure Riley loves sports, that's a given. Surprisingly, what he loves just as much if not more than sports is nature. Since a young age he's enjoyed going for walks around his neighborhood. Now that he's gotten older he has started hiking at Great Falls, Weverton, and Sugarloaf Mountain. Nature has always been fascinating to him as he wants to explore the world–Machu Picchu and the Rainbow mountains in Peru are at the top of his bucket list. 
After high school Riley plans to play Division-ll Football for Shepherd University on an athletic scholarship and to major in Environmental Science. Overall, Riley has had a successful high school career to set up for a successful life.
https://www.maxpreps.com/md/ijamsville/urbana-hawks/athletes/riley-smith/football/stats/?careerid=kskgbq7pggorb#year=22-23