Labs Offer Extra Help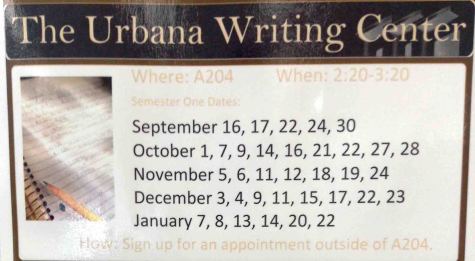 English teachers Sarah Yoder and Teresa Svincek restarted the UHS writing center last year when they saw a need for students to improve their writing. When restarting the lab, their goal was not only to improve students' writings, but also to create a culture of student writers feeling comfortable helping each other.
Writing Center days alternate depending on students' needs. 12- 18 students a week on average are tutored
."[Ideally]Students not just from English classes, but across all subjects would bring their writing assignments to the writing center and have a casual environment to work on them," said Yoder.
Students who qualify to work in the writing center are nominated by English teachers and have to be juniors or seniors. All students can benefit from visiting the writing center to develop ideas, organize and structure a paper, cite sources, engage in revision, discuss editing and proofreading strategies, and find a calm place to write.
The Math Lab was created by math teacher Marjorie Barnes. It was started to provide an option for students to get math tutoring from other students. Math lab is not only beneficial for the students who are being tutored, but also for the tutors themselves because it is an opportunity for them to improve their ability to explain math. The math lab creates an atmosphere that is more comfortable than a classroom. Some students may be afraid to ask their teachers and they may be more likely to ask their peers.
Math lab gets 20- 30 students on average per week. In order for a student to qualify to be a tutor, they have to have taken through Algebra 2 and been successful in those classes, and they have to apply. If they get accepted, they have to commit to it like a job for the season. This is also a good opportunity for off- season athletes who do not have any activities taking their time. When students are sick and have missed school, the math lab can help them catch up and it will prevent them from falling behind in class. Students who have learning difficulties or need extra one on one attention in completing assignments will find the lab time particularly useful.
These are both great opportunities for students to improve their math and writing abilities. It is also a good way for students to prepare for the SAT's, which consists of English and math. Students can get help on their weaknesses on these subjects and improve their scores.