A Moment with Urbana Hawks' Personal Baristas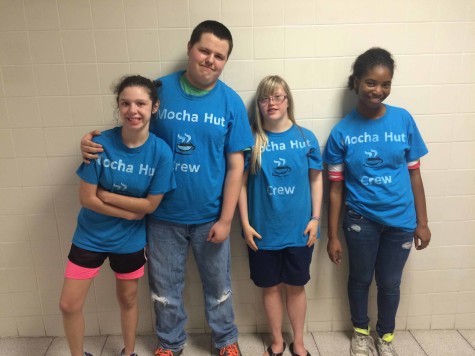 Senior Hannah Carbaugh and 3 juniors- Megan Wagner, William Vale, and Kevionne Thomas- are all a part of the Mocha Hut, a coffee shop run by students and under the supervision of special education teacher Bobbi Yusko. The Mocha Hut provides hot beverages for teachers daily through a mobile coffee shop.
Yusko was inspired to start the Mocha Hut to help her students gain job skills. She loves watching them become independent and their pride in themselves when they accomplish things. This is Yusko's 5th year working at Urbana High School and making a difference in students' lives, one of the main reasons why she became a teacher.  The Mocha Hut is beneficial to students because they learn job skills, taking and managing inventory, and marketing and delivering a product.
"The teachers are supportive," Yusko said. Most students who are a part of the mocha hut have been a part of it since they started at Urbana. It has helped them become more independent by making The Mocha Hut their responsibility.
Vale and Wagner have been with the mocha hut for 3 years, Carbaugh for 4, and Thomas for 2. It takes about an hour and fifteen minutes to deliver to all of the teachers. The most challenging part for the students is waiting for the coffee to brew or reconciling the money. But, they all also have favorite parts such as giving out the coffee, pushing the cart, and counting the money.
Along with enjoying handing out the coffee they are learning new things such as keeping track of inventory, and handling hot beverages. The most popular drink that is sold is coffee but, they sell other drinks such as tea and hot chocolate, they also hand out donuts once a month. The drinks are more popular in the cooler months to help the teachers stay warm and get their day started.
When the students were asked if they would recommend The Mocha Hut to other students it was a big yes. They would love to have other people working with them. They all love handing out their drinks, and who doesn't love a warm drink on a cold morning.
They were all very excited to be interviewed and were very helpful with giving information, Wagner, Carbaugh, Vale, and Thomas are a group of students who are getting work experience from an environment that they are comfortable and they are acquiring skills that will in that will help them in the future when they become more independent, and successful.
The Mocha Hut thanks everyone for their support and helping them excel in school, and jobs either now or in the future. Teachers, Stay warm during the school year and buy some delicious mocha hut drinks.